MOHALI: Four Zirakpur housing societies have made illegal constructions flouting the master plan, according to findings of an ongoing inquiry by additional deputy commissioner (ADC) Komal Mittal.
The local administration had received a complaint from a group of residents of illegal constructions in 23 housing societies and commercial structures. The people had backed their claims by submitting documents.
"We have been able to visit seven colonies in Ghazipur and Nabha areas of Zirakpur so far. We found four of them having irregularities pertaining to ownership of land and area defined for construction. We will be able to submit a final report within two weeks," Mittal said.
Bolstering the allegations of residents that the municipal council (MC) was deliberately ignoring the violations, Mittal said the MC does not have documentary evidence of ownership and khasra number of the 23 constructions that were already under the scanner. "Zirakpur MC is not cooperating to share documents and permissions to such builders," Mittal said.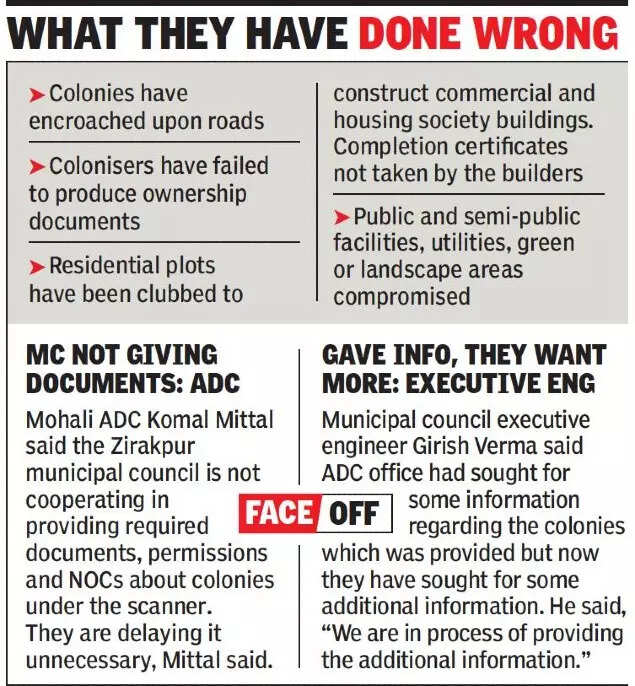 Preliminary findings have revealed the builders have encroached upon roads to construct societies. "At many spots, we have observed that as per the master plan there must be a road but it does not exist and a society has come up there. Highrise buildings have been constructed by clubbing small residential plots. We have sought information of no objection certificates for change of land use of commercial buildings for residential plots. The MC is yet to provide the details," Mittal said.
Sukhdev Chaudhary, chairman of joint action committee that had lodged the complaint with documents, alleged nexus between builders and the MC. "Builders are erecting residential societies illegally and the MC is a mute spectator. Boundary walls are being constructed beyond the construction area and basements are being dug up beyond permissible limits."