HYDERABAD: The Telangana high court on Monday warned that it would stay the Rs 2,000 crore Kokapet land auction process after hearing contradictory arguments from the state government on GO 111 on the one hand and Kokapet land on the other.
The bench of Chief Justice Hima Kohli and Justice B Vijaysen Reddy was hearing an implead plea by Agni Agritech company asking for removal of its land at Vattinagulapalli village from the purview of GO 111. The company argued that the land was outside the catchment limits of the twin reservoirs, Osman Sagar and Himayat Sagar.
The bench took serious note of the state government's counter stating that if highrise buildings are allowed in over 600 acres of Vattinagulapalli then pollutants and stormwater would pollute Kokapet lake and Himayat Sagar.
The judges said that if that was the case then it would stay the auction at Kokapet because the state did not disclose this information when a PIL questioning the auction was filed. "We will now revive that PIL in view of the new facts that are coming to the fore," the bench said. "It is not too long ago, the state auctioned 50 acres of land at Kokapet adjoining Kokapet lake where construction of highrise buildings is permitted."
The implead petition was filed in the main writ petition by environmentalist Jeevanand Reddy who is seeking complete protection of the twin lakes and their catchment area of 10 km radius as envisaged in GO 111.
Appearing for the company, senior counsel K Vivek Reddy argued that they did not want any dilution in GO 111. "But our land falls outside the purview of catchment area…Since GO 111 speaks only about protection of catchment areas, we want our land to be removed from GO's purview," he said. He cited a decade-old report by state experts which favoured removal of such areas from GO's regime.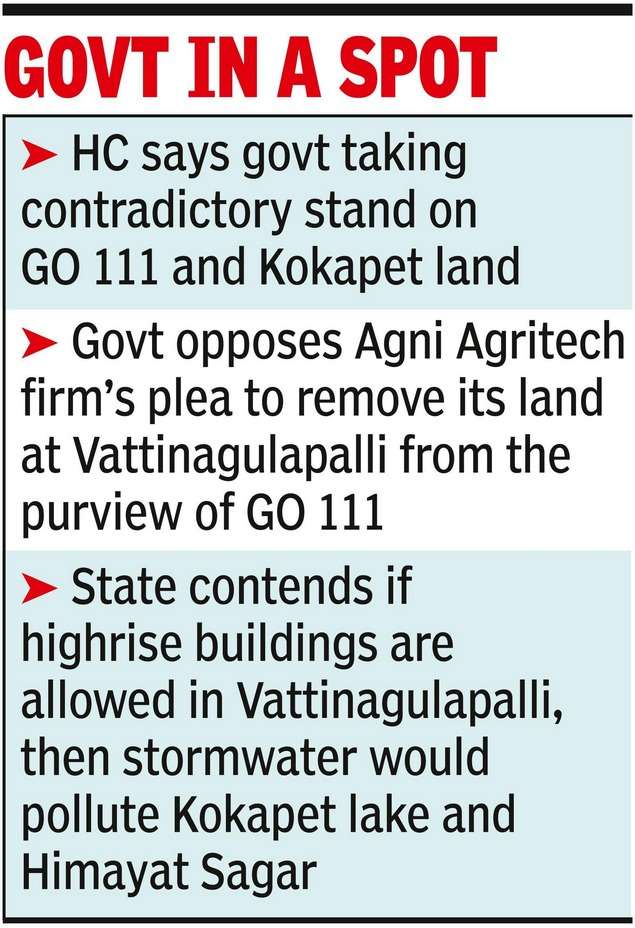 As many as 80 villages, including Vattinagulapalli fall under GO-111. But the government is now apprehending that exemption to one village would result in huge problems because it may result in emergence of high-rises in Vattinagulapalli alone with several other villages also seeking such an exemption.
The government roped in ex-attorney general of India Mukul Rohatgi to present its case. Though Rohatgi argued against deletion of Vattinagulapalli from GO 111, the bench asked him why the state-appointed panel did not file its report in five years. "Though we summoned details of minutes of its meetings, the state failed to furnish them," the bench said.
Rohatgi said he is not aware of these issues and sought time. The bench reminded him the state itself filed an application before this court conveying its intent to review GO-111. Rohatgi said the state is now proposing to withdraw that application. The case will come up again on August 18.