HYDERABAD: When last counted officially in 2016, over 12,000 illegal structures stood tall on the area earmarked under GO 111. Five years hence – at a time when the Telangana government is caught in a legal tussle over the issue – the number has grown at least five times, claim Hyderabad's environment activists.
This despite a ruling by the National Green Tribunal (NGT) staying all activity in this no-construction belt spread over 84 villages which fall in the catchment area of two of Hyderabad's biggest fresh water lakes – Osmansagar and Himayatsagar.
TOI's recent visit to Shamshabad, Moinabad, Shankerpally – three prime pockets covered by the 1996 order (GO 111) – confirmed that real estate activity is booming in these areas. From restaurants, bars and swank convention centres to educational institutions, luxury villas and towering commercial establishments, the landscape is heavily populated with concrete structures.
'If illegal constructions continue, city will soon witness repeat of 1908 floods'

This is not limited to the arterial roads alone. Construction activity has seeped into the interiors too, with smaller villages now sporting expansive warehouses, homes and 'plots for sale' boards. The price: Rs 2-3 crore per acre on average.
Locals claim the realty business here picked up pace especially post 2018 after TRS leaders promised to scrap GO 111 if the party returned to power.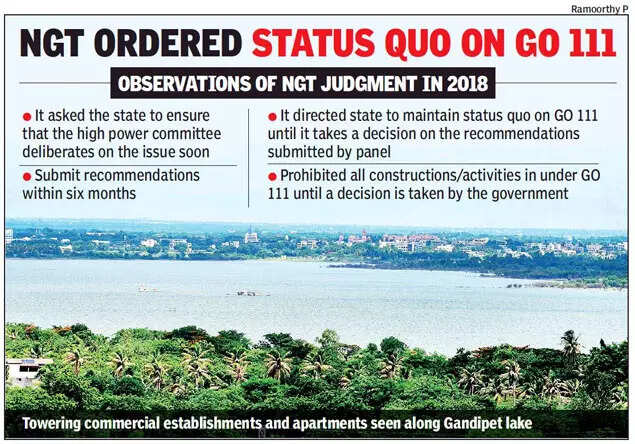 Such is the rush that industry surveys list Shankerpally as among the hottest property destinations in the city today, despite a large part of it falling within 10 km radius of Osmansagar's full tank level (FTL).
"What is happening in these areas is a blatant violation of the law," said activist Thakur Rajkumar Singh, also the petitioner in the NGT case. Citing the tribunal's order, he said: "People do not realise that if this continues, Hyderabad will soon see a repeat of the 1908 floods as these two reservoirs were primarily built for flood water management and not drinking purposes."
Despite repeated attempts, Arvind Kumar, principal secretary, municipal administration and urban development and Dana Kishore, managing director of Hyderabad Metropolitan Water Supply and Sewerage Board, could not be reached for a comment.