VISAKHAPATNAM: Visakhapatnam Metropolitan Region Development Authority (VMRDA) has identified three land parcels, measuring 363 acres in the district, for developing MIG (middle-income group) plots. These layouts will come up in GS Agraharam (140 acres), Ramavaram (130 acres) and Palavala (93 acres) in Vizag suburbs.
The VMRDA sent the proposals to the state government and a government order in this regard is expected to be released in the next few days.
The state government is planning to develop MIG plots in the urban local bodies across the state under 'Jagananna Smart Towns'. The demand survey for the MIG plots under this scheme received about 3.9 lakh applications from the prospective buyers. As part of the same, the VMRDA identified three different land pockets in the district. As per preliminary guidelines of the scheme, the plots will be developed in three different sizes – 150, 200 and 240 square yards.
It is proposed to develop these smart townships in about 150-250 acres in the district headquarters and 50-100 acres in the other areas, depending on the requirement after assessing the preliminary demand.
VMRDA chairperson A Vijaya Nirmala said the major objective of the initiative is to provide clear title residential plots at affordable prices to the public. "The layouts will lead to integrated development as they will have all the infrastructural facilities. The VMRDA has zeroed in on three land parcels in the Vizag suburbs," said Vijaya Nirmala.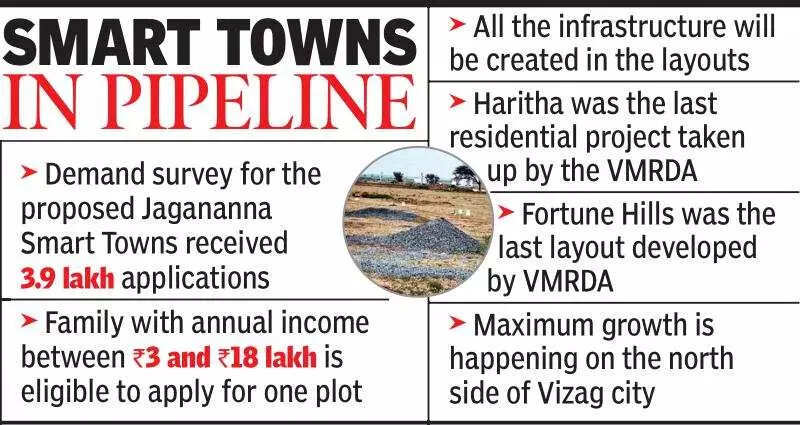 The VMRDA is long planning to develop new layouts in the suburbs as the urban development authority has land parcels on all four sides of the city. The joint venture 'Fortune Hills' in Dakamarri was the last layout developed by the VMRDA in 2016.
As per guidelines of the Jagananna Smart Towns, the location of site should be such that common facilities like school, transportation, medical facilities, etc. shall be within reasonable disatnce. And the land selected must be free from litigation.