MUMBAI: The state cabinet was on Wednesday presented with the global warming report of the Intergovernmental Panel on Climate Change, with an overall focus on Maharashtra and an emphasis on its coastal belt, particularly Mumbai.
Calling for mitigating measures, the environment department, while making the presentation, reiterated that if temperatures rise by 2-2.5 degrees Celsius on account of climate change, the city and the state will be among the world's worst-affected spots.
"The cabinet appreciates the need for quick action and places on record the urgency to get going on a carbon-neutral plan," said Manisha Mhaiskar, principal secretary, environment.
"It has been decided to set up a council of ministers for climate change, headed by the chief minister, and co-chaired by the deputy chief minister. We have identified five sectors where a time-bound climate action plan needs to be initiated if we are to reduce the impact of climate change."
The department warned that if one continues with "business as usual" then Mumbai and other coastal areas face the prospect of submergence, and central Maharashtra of severe drought. It said that forests, instead of acting as carbon sinks, will burn due to fires.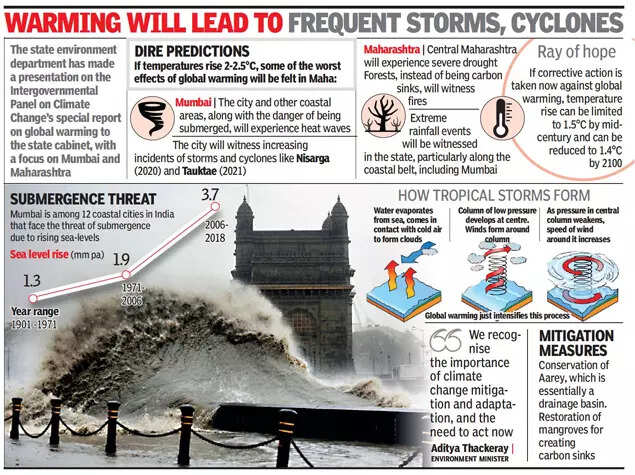 The presentation also warned of 'wet bulb temperature' (temperature read by a thermometer covered in water-soaked cloth — wet-bulb thermometer — over which air is passed) being severely damaging to Mumbai. A wet bulb temperature reaches the surrounding temperature when humidity is 100% and water does not provide any cooling, resulting in heat strokes among living beings; this can cause a large number of deaths, comparable to that caused by earthquakes or epidemics.
The presentation pointed out that the impact of climate change was already being felt locally: Mumbai and neighbouring areas experienced two cyclones in quick succession (Nisarga in 2020 and Tauktae in 2021). It also said that because of extreme rainfall, landslides are becoming a regular event.
The department mentioned initiatives the government has taken to lower the rate of temperature rise, among which are the conservation of Aarey forest and the restoration of mangroves as steps towards protecting and creating carbon sinks.
Five sectors identified as major contributors to the carbon footprint include energy (50%), industry and transport (15% each), and agriculture and urbanisation (10% each). Mhaiskar said the minister of the department concerned will head the preparation of a plan and provide details of fund allocation for implementation. The plan will then be placed before the council.