SECUNDERABAD: Life in Secunderabad Cantonment Board (SCB) limits has become quite taxing, claim property owners worried over rising taxes.
The SCB's revised tax plans for 2022 fiscal, which is likely to include a steep rise, is already giving sleepless nights to property owners. This year alone the SCB has collected about Rs 80 crore to Rs 100 crore in property taxes, an SCB official said.
"If as taxpayers we question the Cantonment Board officials on infrastructure development, they chant 'no funds' mantra," B Dileep Reddy, a resident of Dhanalakshmi Colony in Bowenpally told TOI, adding that unlike GHMC, the SCB has failed to use taxpayers' money to improve civic amenities.
For some, selling their properties and shifting to GHMC areas seems to be a better idea unless there was a merger between the two bodies to bring uniformity in taxes for residents in the twin cities.
Commercially, the SCB area has grown rapidly on a par with GHMC, but many tenants have been spooked by rising rents as property owners deftly passed their higher tax burden on to them.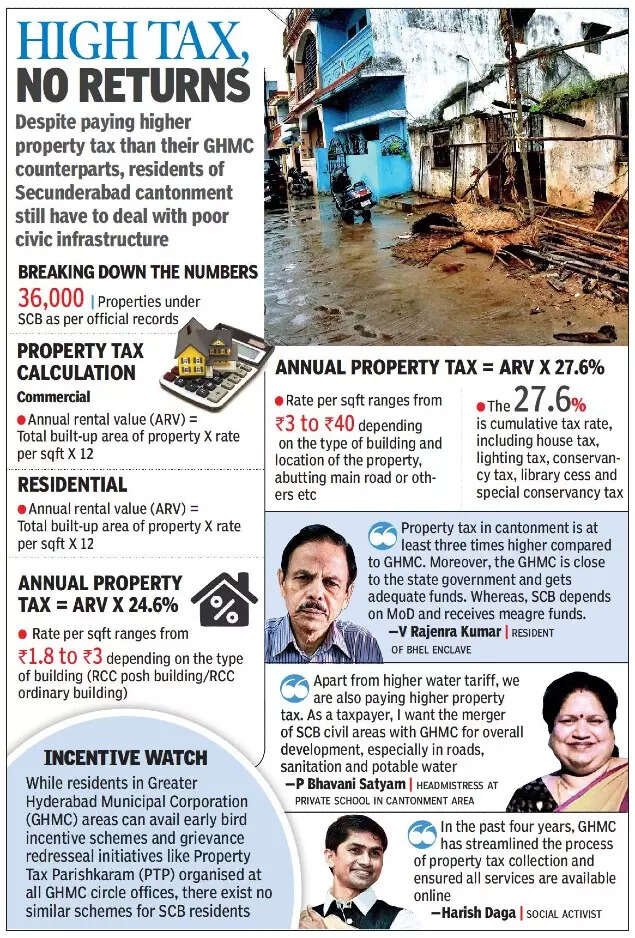 When TOI spoke to a few commercial property owners in Trimulgherry, Bowenpally, Karkhana, Picket and Marredpally, the common refrain for raising rent was ever increasing tax burden. Covid-19 has now multiplied their financial woes. "There has been no business due to Covid-19 pandemic. But taxes are still high. So, we raised the rents," a property owner admitted.
The old tenants are the once feeling the pinch most as their low rents have skyrocketed. "A steep hike in property tax every year has led to owners raising rents. They are not sparing even long-time tenants," said B Chakradhar, a grocer running his business from a rented premise for more than two decades in Trimulgherry.
As per official SCB records, there are over 36,000 properties now paying taxes, while there are close to 15,000 illegal properties (not on records) missing from the tax net. "People in the tax wing have been minting money. It can't be ended unless there is a merger," BVSS Srinivasa Rao, a resident of Greenview Enclave, claimed.