HYDERABAD: Scouting for the best bet for next round of land auctions, the Telangana government is now eyeing the Telangana Housing Board (THB) land in the city. The state government has reportedly identified about 540 acres belonging to the housing board in Kukatpally, Pocharam, Raviryal and left-over plots in various locations in the city such as Vengal Rao Nagar.
The state government is learnt to have asked the housing board to hand over certain land parcels owned by it to the Hyderabad Metropolitan Development Authority (HMDA) for holding auctions.
Sources in the government said the target is to earn Rs 2,000 to Rs 3,000 crore immediately by way of sale of land. It has earned about Rs 3,000 crore through land auctions in the financial year 2021-2022 till now by sale of plots in Kokapet, Khanamet, Uppal Bhagat and Poppalguda through HMDA and TSIIC.
"Discussions were held on auctioning Kukaptally housing board land and will be done through HMDA as it has experience in e-auctions and also development of layouts. The government will take a final call on it (auctioning) as board does not have powers," a senior THB official told TOI.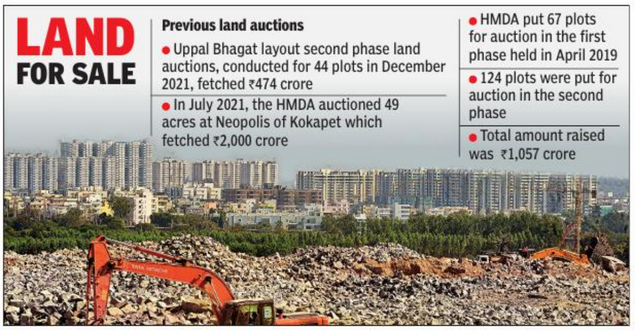 The THB will hand over 32 acres belonging to it in Kukatpally to the HMDA for development of bigger plots — each about one acres to one and half acres, mainly for commercial and mixed-purpose development. The auction will take place only after layout development.
"As the land is close to Hi-Tec City and has connectivity to metro and other transports, it is likely to fetch a minimum Rs 1.50 lakh per sq yard," an official source said.
The government has already instructed the Rajiv Swagruha Corporation to sell the left-over areas at Pocharam and is also planning to sell some left-over plots in villages which it is also developing as IT hub in the eastern part of the city.