MUMBAI: Builders executing redevelopment projects under the Slum Rehabilitation Authority (SRA) have beaten the pandemic blues.
While a record number of approvals for SRA projects were given between March 2019 and April 2021, the highest number of projects were completed too during this period.
According to data from the SRA, 516 Letters of Intent (LoIs) were issued between March 2019 and April 2021, including those that were re-issued as they were stuck for a long time and 82 new ones. In the period from April 2017 to March 2019, 184 LoIs were issued. A builder can begin redevelopment of a slum plot only after an LoI is issued by the agency.
"We have not just issued fresh LoIs, but also issued revised LoIs in several cases where projects were stuck and have fast-tracked procedures in the SRA," Satish Lokhande, SRA CEO, said. "The aim is to ensure that the maximum number of slumdwellers are rehabilitated as soon as possible. We are bringing in several changes to facilitate this," he added.
In December 2020, the agency began sending notices to developers who have failed to start their projects even after getting requisite clearances.
Between March 2019 and April 2021, the SRA issued occupation certificates to 28,162 slum rehabilitation units—8,602 in 2019-20, 13,875 in 2020-21 and 5,685 in April 2021. In the period from April 2017 to March 2019, 26,422 OCs were granted. Once an OC is given, the project is deemed to be completed and original tenants can move into the new units.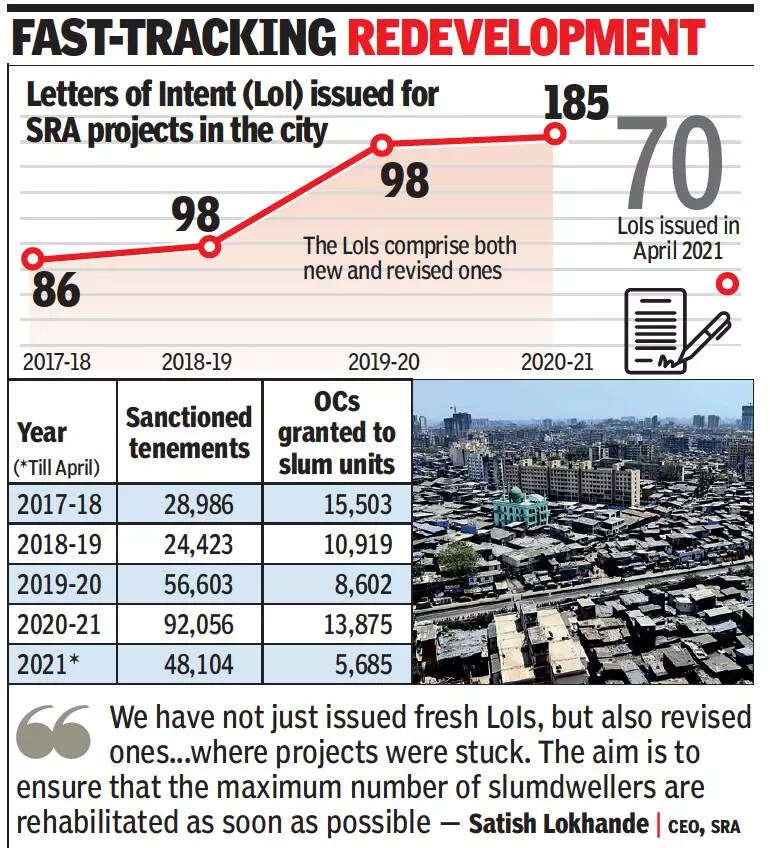 Housing minister Jitendra Awhad had recently said that he was pushing to fast-track SRA projects and that the agency would take over projects where the developer has failed to rehabilitate the slumdwellers. "The SRA plans to take over all projects which are at standstill and have taken big fat loans from financial institutions and left the poor on the streets. The very aim is to give homes to the poor and pump in money for SRA. Just having LoI does not make u the owner of the property," he had tweeted.
According to the data, between March 2019 and April 2021, nearly 2 lakh slum tenements were sanctioned of which 48,104 were okayed in 2021 alone. Between April 2017 and March 2019, only 53,409 slum tenements were sanctioned.
Around 2.1 lakh families have got new apartments in the 23 years since the SRA was set up. According to SRA estimates, there are 12.5 lakh slums in Mumbai housing 62 lakh people. In December 2020, the state government had set up a 10-member committee to ensure speedy disposal of complaints pending with the SRA, including cases of corruption and red-tapism. According to officials, projects are stuck for various reasons, including lack of funds or complaints by tenants against the builder. According to estimates, one lakh slumdwellers are affected by the "dead" SRA projects.