MUMBAI: The redevelopment of old buildings received a push in the state during Covid as Mhada gave record approvals to projects, in the process collecting its highest revenue levels from fees and premiums: in just five months, from April to August 2021, the agency collected Rs 1,171.86 crore through this approach. In comparison, in 12 months from April 2020 to March 2021, the agency had collected 261.38 crore.
From the time the pandemic began, Mhada's total revenue collection has been over Rs 1,433 crore, a record for the housing agency. From April 2020 till August 2021 (the last month for which data is available), Mhada gave approvals or offer letters to 193 redevelopment projects. In comparison, the agency had approved only 162 projects in three years from 2017 to 2020 before the pandemic broke out.
Mhada officials said fast-tracking approvals and a 50% discount in premiums offered by the state government had helped builders and that was the reason behind the redevelopment push.
Builders pay premiums to Mhada for getting additional construction space and concession in rules like having large amounts of open space and staircases.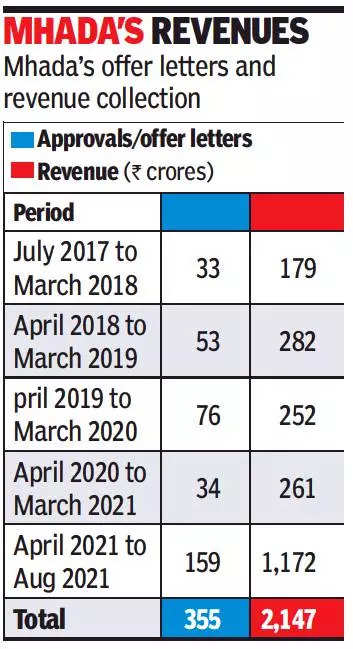 Housing minister Jitendra Awhad said he was pushing to fast-track redevelopment of old and dilapidated Mhada-regulated buildings and the agency had been asked to issue offer letters in a time-bound manner.
"We have cleared several projects that were stuck for decades. We have given offer letters and made way for the redevelopment of several projects like Patra Chawl, Chikhalwadi, Motilal Nagar and even BDD chawls. This has happened because of fast-tracking of processes. Those living in these old buildings will soon get new homes," Awhad said.
There are 14,000-odd cessed buildings in the city. Many are in urgent need of redevelopment.