HYDERABAD: Telangana's gross value added (GVA) through service sector grew at a rate of 1.5 to 2 times between 2014-15 and 2020-21 with real estate a major contributor to this growth. Real estate, dwellings and professional services were the main drivers of the services sector, accounting for nearly 35 per cent of its GVA in 2020-21 — the state GVA's single-largest sub-sector.
The GVA of real estate sector is expected to reach Rs 1.85 lakh crore in 2020-21, up from Rs 96,912 crore in 2014-15. Since then, the value of GVA increased by roughly Rs 15,000 to Rs 20,000 crore year-on-year. "Lockdowns and slowing down of activities had no effect on service sector growth; Hyderabad plays a significant part in this," a top official said.
The GVA of trade, repair, hotels and restaurants rose by a factor of two between 2014-15 and 2020-21. This, despite the Covid-19 pandemic. The GVA of this sub-sector is also expected to reach Rs 1.36 lakh crore this year.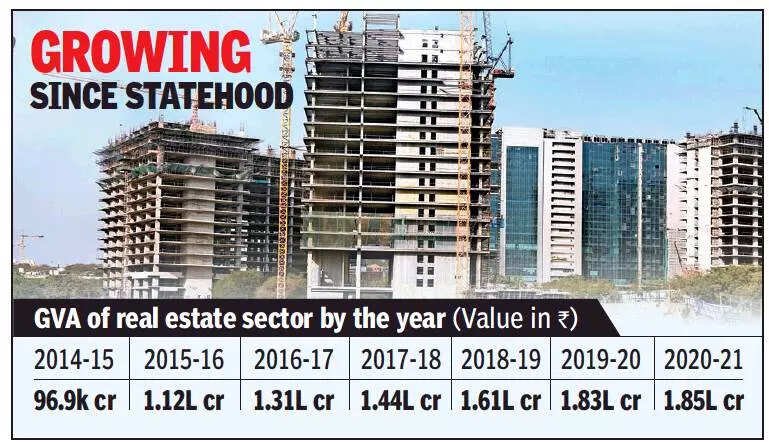 According to experts, the state's robust GVA in any area — particularly the services sector — represents a healthy trend. "The state's GST receipts are indicative of the trend but we should also look at the number of dwellings sold, not only income receipts," said A Nakula Reddy, director of Andhra Mahila Sabha College for Women and former professor at Osmania University's department of economics.
Between 2015-16 and 2020-21, Gross State Value Added (GSVA) — which reflects the supply or production side of the economy — grew at an annual average rate of 11.6 per cent in Telangana, compared to national average of 7.8 per cent at current prices. Telangana's overall GSVA increased by 2.9 per cent in 2020-21 (PE), outpacing India's GVA growth of 5.9 per cent.