KOLKATA: Continued uncertainty over the resumption of work at the West Bengal State Consumer Disputes Redressal Commission — or consumer court — that has remained shut since May 15 has left several thousands of litigants and lawyers apprehensive. The closure of the apex consumer court in the state has also led to a ripple effect in district-level courts.
A senior officer said the state was trying to resolve the logistics during the pandemic to get the court functioning. "The court authority said that the court cannot function without resolving those logistic issues in this pandemic situation," said an officer of the department. TOI contacted Gadhadhar Chatterjee, the registrar of the court, who refused to comment.
The commission, which functions under the state consumer affairs department, hardly operated last year due to the lockdown. This year, it started functioning, only to be closed due to the second wave of Covid-19.
Thousands of litigants, mostly related with real estate projects, are at the receiving end of this stalemate. "After the Supreme Court declared West Bengal Housing Industrial Regulatory Authority (HIRA) Act unconstitutional, all the real-estate related cases came back to this commission, which can handle cases worth Rs 10 lakh to Rs 1 crore," said Prabir Basu, a prominent consumer law expert.
Across the nation, the Real Estate (Regulation & Development) Act, 2016, is effective to handle real estate cases. HIRA is modelled on RERA. But Supreme Court has ruled that West Bengal's separate real estate regulation is repugnant to the central government's Real Estate (Regulation & Development) Act, 2016, and is unconstitutional. Unless new RERA court is in place, real estate consumers have no other places than this consumer court to seek redress.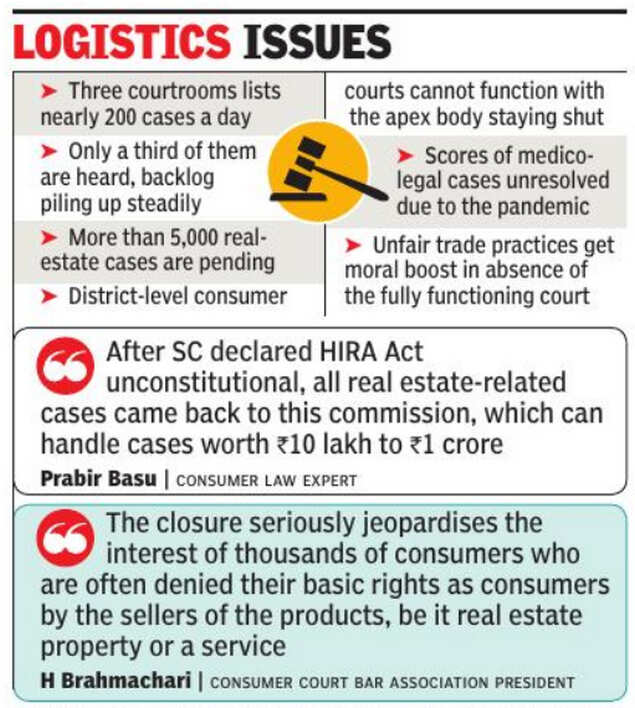 In Bengal, like any other places, the highest number of consumers are grappling with issues like not handing over the apartment to the buyer despite making 90% payment, selling one apartment to multiple buyers, selling apartments completely of different dimensions than the promised ones. "Now, the majority of these complaints remain unresolved. Man's basic right to shelter is compromised," said H Brahmachari, president of the Consumer Court Bar Association.
"I met the court officials and wrote to the president of the commission with an appeal to resume the functioning of the court without any delay. The closure seriously jeopardises the interest of thousands of consumers who are often denied their basic rights as consumers by the sellers of the products, be it real estate property or a service. Three court rooms at this state-level commission list nearly 200 cases a day, but only a third of them could be heard. Just imagine the backlog of cases," said Brahmachari.