CHENNAI: Steady revival of the real estate sector after the second wave of Covid-19 has reflected in the revenue generated through property registrations, which has touched a new high in September. Income from property and land registrations in Tamil Nadu in September was nearly Rs 1,500 crore — the highest in a month in any year.
Data sourced from the registration department show that September's income accounted for 25% of the total revenue generated between April and September of this financial year (2021-22).
While the past seven months witnessed revenue to the tune of Rs 5,973.9 crore, September alone accounted for Rs 1,495.9 crore. The previous record revenue collection was in February 2021, when Rs 1,386.6 crore was generated through stamp duty and registration fee.
This apart, more than 3.6 lakh documents were registered in September — fourth highest count since 2011.
The Chennai zone comprising the city, Chengalpet, Kancheepuram and Tiruvallur districts have contributed about 45% of the total revenue, according to official sources with the registration department. The figure was an average during the pre-Covid levels.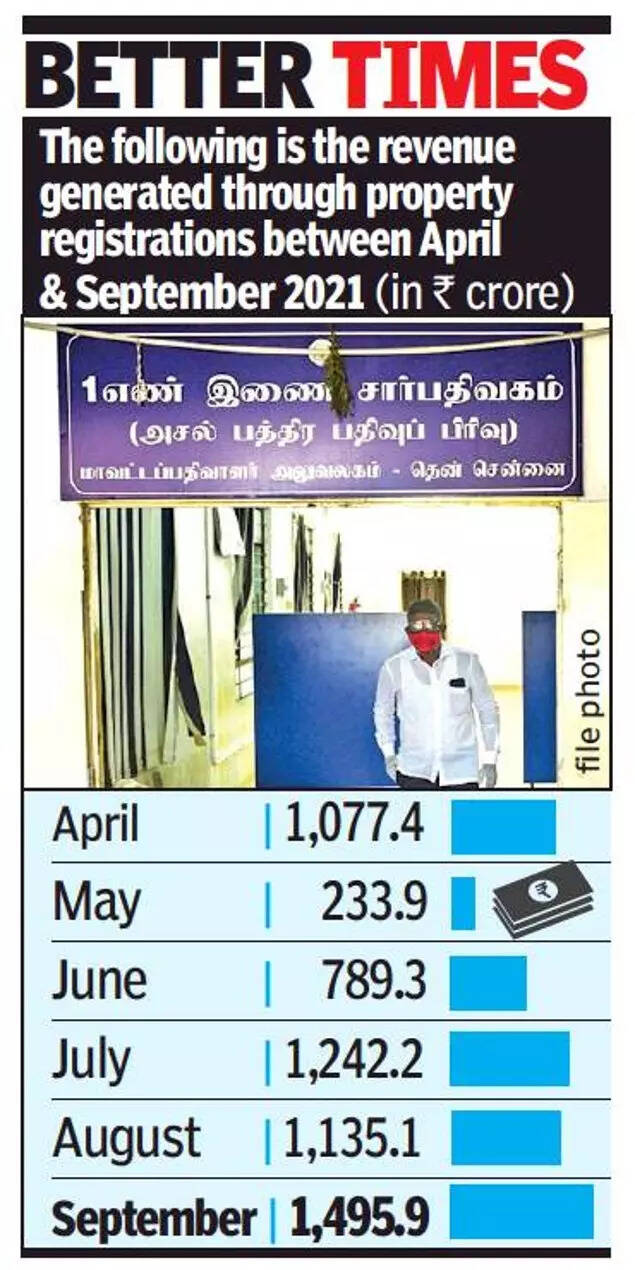 "The recent real estate boom was one of the reasons for the revenue jump. Relaxed lockdown restrictions post the second wave of Covid-19 also helped," a senior registration department official said.
September, in general, witnesses an uptick for property registrations after an August lull. In the past four years including the Covid year of 2020, property registrations have increased. September 2018 saw Rs 915 crore revenue from registrations, Rs 1,061 crore in 2019 and Rs 1,087 crore in 2020.
Suresh Krishn, president (Tamil Nadu chapter) of the Confederation of Real Estate Developers' Association of India (Credai), said the real estate market in Chennai and neighbouring districts had a jump in the number of apartments, villas and housing plots being sold in the past three months when compared to the previous years. "We are expecting a further increase in sales during the coming months," he added.