AMARAVATI: The state government is gearing up to issue property cards in 100 villages by August 15 and 1,000 villages by October 2.
The cards will be issued to land and property owners after resurvey in the area. The cabinet sub-committee headed by PR minister Peddireddy Ramachandra Reddy reviewed the progress of the survey programme on Thursday.
Deputy CM (Revenue) Dharmana Krishnadas and municipal administration minister Botcha Satyanarayana were also present.
Addressing the meeting, Peddireddy said that they would issue property cards to those who have been enjoying 'Grama Kantham' without any title or land record, for several decades in the first phase.
He said that they would identify the land under the enjoyment of farmers through digital survey taken up with drones. "Farmers and land owners have been struggling with improper land records and title cards as no land survey was conducted in the state for over a century. We have taken a comprehensive land survey under YSR Jagananna Saswatha Bhu Hakku and Bhu Raksha scheme across the state," said Peddireddy.
He said that field level survey of grama kantham land in about 100 villages would be completed in a few days and they would ready the title cards by August 15.
He said that the officials communicated that survey of Grama Kantham lands would be completed in about 1000 villages by October 2.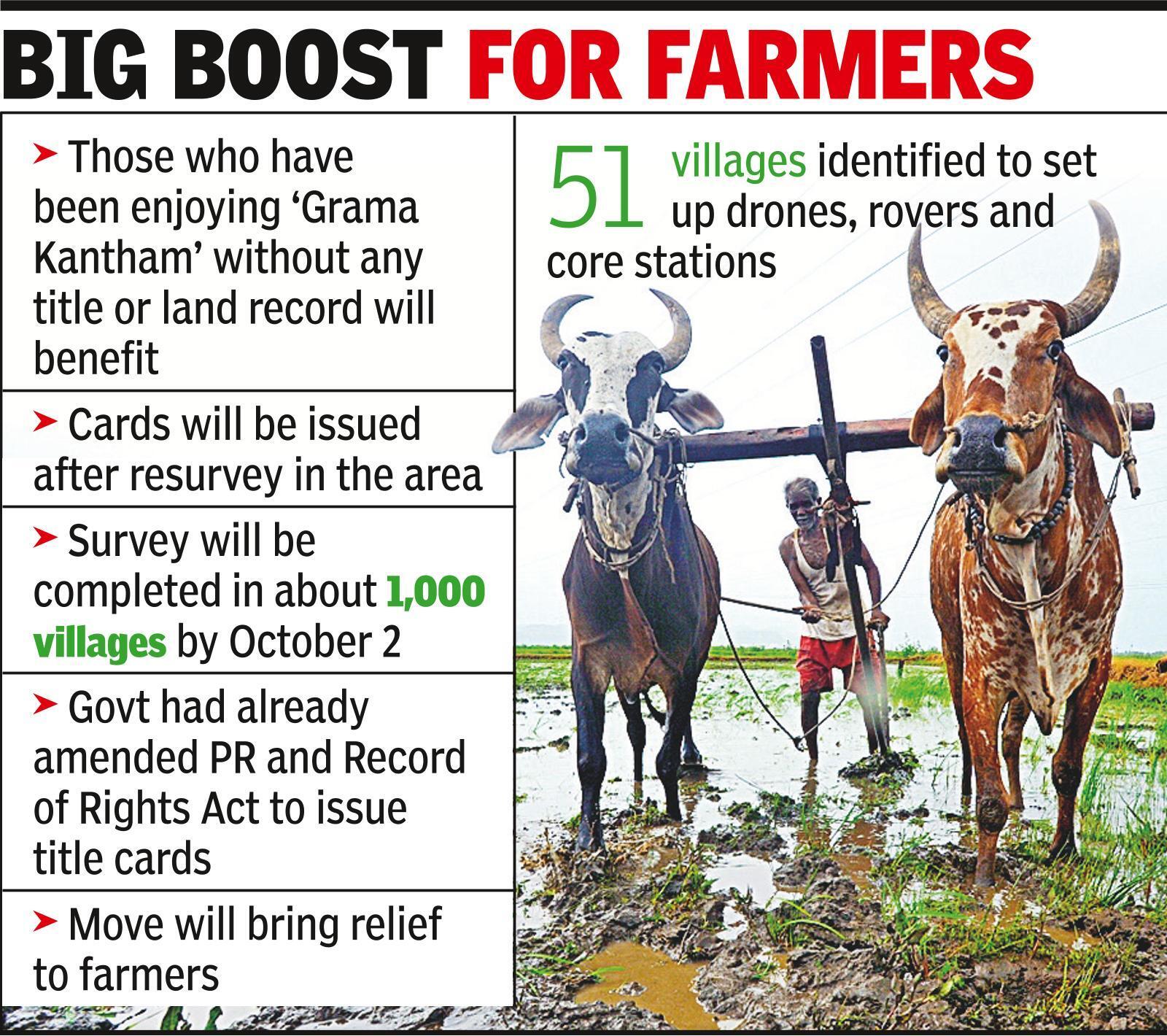 He said that the state government had already amended the PR and Record of Rights (ROR) Act to issue title cards in Grama Kantham lands to bring relief to farmers.
Chief Commissioner Land Administration (CCLA) Nirabh Kumar Prasad said that they have identified 51 villages in 51 revenue divisions to set up drones, rovers and core stations to complete the survey.
He said that they have set up 70 core sub-stations as per the instructions of the Survey of India authorities.
He said they have taken up survey in Tadepalligudem as a pilot project for urban areas. The officials said that the Centre had granted only six drones to the state as Swamitva programme was going on across the country.
They told the cabinet sub-committee that they would achieve the targets only if they could get 51 drones for early completion of the survey.
Peddireddy told the officials to examine procurement of additional drones through the State Drones Corporation.
He asked the officials to deploy surveyors from village secretariats and SERP to complete the task. Principal advisor to the government, Ajeya Kallam, principal secretary, Usha Rani, and survey commissioner, Siddarth Jain, were also present.