SECUNDERABAD: In a major move, officials of Secunderabad Cantonment Board (SCB) will levy property tax on buildings on encroached Cantonment and Defence land within Cantonment limits.
On Wednesday, a resolution was passed in the Board meeting held under chairmanship of president of Cantonment Board, Brigadier Abhijit Chandra.
SCB chief executive officer B Ajith Reddy who was in the Board meeting, told the media: "The decision to collect taxes on the lines of regular properties has been taken to improve our revenue. In fact, the Cantonment Board is spending crores of rupees for basic amenities like water, sanitation and street lights for people staying on encroached Cantonment and Defence land, but has not received a a single rupee as income from them for decades."
"Assessment of properties on encroached lands will be undertaken," an official release issued by the SCB CEO here, said.
According to SCB official records, there are 10,000 properties built on encroached land within Cantonment limits. Rasoolpura is among the biggest areas with a large number of properties built on encroached land, followed by Mudfort, Bowenpally and Trimulgherry.
In 2018, based on Supreme Court orders, SCB officials removed over 28,000 names of voters from enrolment list. The SC in its judgment in September 2016 had stated that those encroaching upon defence land will have no right to vote in the SCB polls.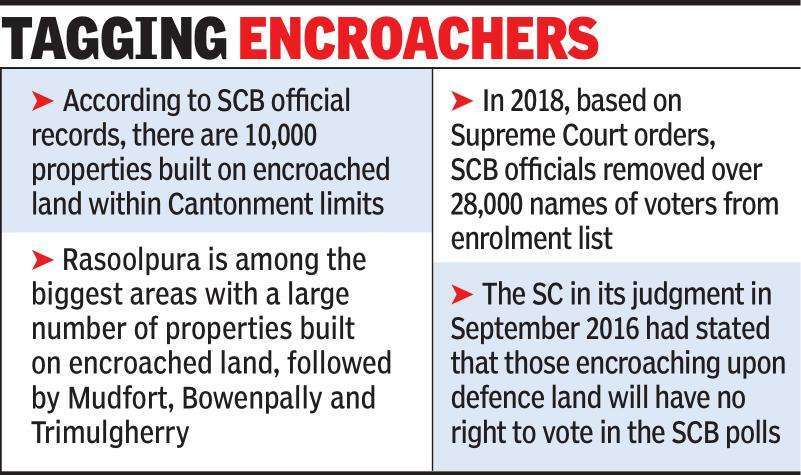 Though the allotment of house numbers for nearly 10,000 properties was taken up by the Cantonment Board, it was stopped after the Supreme Court's judgment. "House numbers are mandatory to assess the property tax to these properties and issue the demand notice," an official in the SCB tax wing said.
Meanwhile, the Board also passed a resolution to allot vacant open Cantonment land located between Jubilee Bus Station (JBS) and Picket Garden for parking. "Leasing of rights for temporary usage of land for pay and park facility at JBS has been allotted to a private firm on open auction basis," CEO Ajith Reddy told TOI.
Apart from these resolutions, the Board has considered and approved rights of toll tax collection for 2021-22 year, and also public works, sanctioning building plans, and GLR mutations too.