HYDERABAD: Illegal buildings continue to mushroom in and around the city right under the nose of the official machinery. As many as 200 villas have been allegedly built illegally on the city's periphery in Mallampet village under Dundigal municipality. Of these, at least eight were built by encroaching five acres of full tank level (FTL) and buffer zone of Katwa cheruvu in the village.
The authorities plan to bulldoze the illegal villas and the officials involved are now under the state's radar.
According to officials, some local elected representatives were also allegedly behind these unauthorised structures and they had collected huge sums from the firms.
The issue of these unauthorised structures came to light recently after complaints that villas were being raised on lake FTL. When Medchal district in-charge collector S Harish ordered a probe, it was found that over 200 of the 260 villas did not have the requisite permissions.
Sources in the municipal administration and panchayat raj department said that these illegal villas were built on 150 sq yds and the firms claimed to have permission from gram panchayat/municipality.
Officials suspect permission copies have been backdated

But official inquiries revealed that only about 60 villas had permissions from the Hyderabad Metropolitan Development Authority (HMDA) and Dundigal municipality. The rest were illegal structures.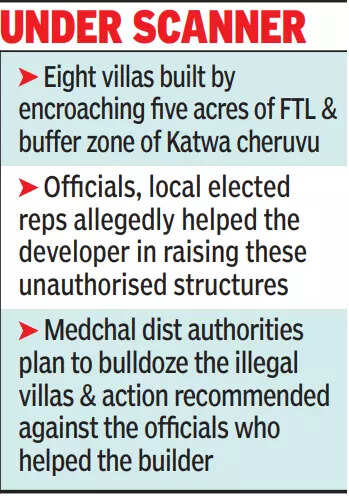 Interestingly, some had submitted permission copies from gram panchayat claiming they had got the nod prior to its merger in Dundigal municipality in 2018. But officials suspect that the permission copies have been backdated. "The permissions were not entered either in the register of Mallampet panchayat or the amount collected towards permission fee adjusted to its account. Moreover, panchayats do not have powers to grant permission for construction of villas or gated communities," said a senior official part of the probe.
N Satyanarayana, director of municipal administration department, told TOI on Wednesday: "Teams have been constituted by the Medchal district additional collector (local bodies) to bulldoze all the illegal houses and action has been recommended against the municipal commissioners and panchayat secretaries under whose period the villas were constructed."
The officials against whom action has been recommended include panchayat secretaries Raj Kumar and Sunitha for neither recording the permissions in the register nor crediting the fee into panchayat accounts. Action has also been sought against then Dundigal municipal chiefs Jyothi Reddy, A Suresh, MNR Jyothi and present commissioner P Bhogishwarlu for not checking permissions after merger of panchayat with municipality and for failing to stop illegal construction.