CHENNAI: Taking a strong note of residents being made to run from pillar to post for getting building approvals, the city corporation has directed all its zonal officials to ensure the documents are issued within 30 days of receiving applications. The civic body is also considering to move the entire process online to reduce hassles.
A circular from the executive engineer (works) in the corporation headquarters, issued last week on instructions of GCC commissioner to all zonal officers and headquarters engineers concerned, stated that all applications should be dealt with within 30 days unless there are valid reasons for delay.
"Residents and commercial establishments were being made to run in circles without being told what the procedure to obtain building approvals was. The circular will help applicants be informed of the process," a senior GCC official said.
The circular also gives a clear timeline for processing the applications. Assistant executive engineers are to make a site visit within five days of admitting the application, enter the inspection report online within the next two days and must verify documents within the next five days. If any additional document is needed, a request must be sent to the applicant within 48 hours and the applicant must submit it online within 15 days thereafter. Fee calculation will be done online and the authority will have to provide the approval within 15 days of document scrutiny.
The circular also stated that the corporation is contemplating doing away with the submission of hard copies of documents. Until the process is moved online, a separate counter will be created in every zonal office for receiving documents for applications submitted online, it added. Applicants will be given an acknowledgment with the application number and an entry will be made in the register after receiving the documents.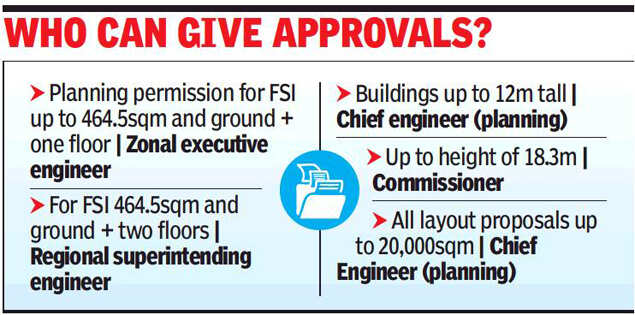 At GCC headquarters, the document submission counter will be managed by assistant executive engineer on the fifth floor of Amma Maligai.
The powers delegated to zonal officials means that planning approvals for non-high rise residential and commercial buildings (with FSI area of maximum 464.5sqm and ground + first floor or stilt + 2 floors up to a height of 9 metres) can now be sanctioned by zonal executive engineers at zonal offices. They will also process demolition applications.
Only permits for buildings with FSI area above 464.5sqm to 929sqm with 12m height will go to chief engineer (planning) in the headquarters for approval. Buildings constructed to a height of 18.3m will be approved by the GCC commissioner.