NOIDA: A drone survey would be carried out to gather measurements and data about the twin towers in Supertech Emerald Court whose demolition has been ordered by the Supreme Court.
A private agency hired by the Noida Authority would carry out the survey of the entire project, but with focus on the Apex and Ceyane towers, which have to be brought down in three months.
Officials said the findings of the aerial survey would be matched with the records and building maps available with the Authority. The digital data would also be shared with the Central Building Research Institute in Roorkee, whose assistance the Supreme Court had asked Noida to take in bringing down the towers.
"The Authority officials got in touch with us about a week ago and informed us about the need to carry out the survey. We have been coordinating with them to ensure the exercise gets done smoothly," said Rajesh Rana, president of the residents' welfare association of Emerald Court.
A team of experts has already visited the project twice this week.
According to officials, the drones would not only capture the layout of the entire project aerially, but also record the twin towers from all sides from the ground to the top floor. After data of all vital parameters have been collated, a 3D modelling of the project would be made.
"It's going to be extremely difficult to get the exact height and measurements of the building manually. A total of 32 floors have been constructed apart from the basements. We will have to check the condition of each and every floor. A structural audit will be required before the demolition takes place. Also, the number of scaffolding, wooden planks and other materials that have been used needs to be accessed. Using drones to do all these is much more convenient," an Authority official said.
Findings of the survey would also be shared with the special investigation team that is probing — as the apex court had observed — the collusion of Authority officials and the developers.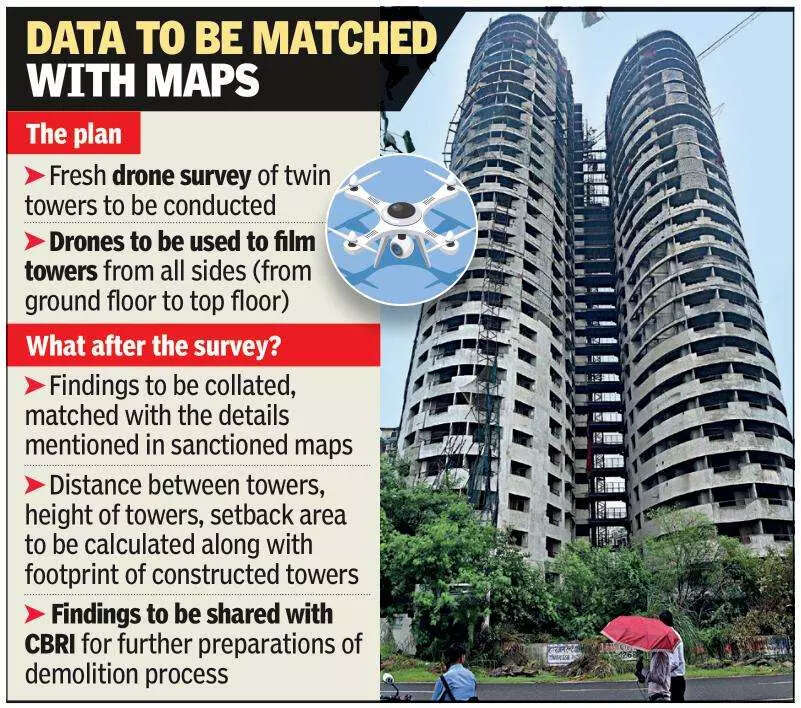 The four-member SIT was set up after the August 31 order of the apex court to probe the collusion in allowing the construction of the twin towers and fix responsibility. The legal battle against the twin towers was fought by the Emerald Court RWA.
The area between the two towers, the building setback and the space for car parking would also be analysed and collated with the sanctioned building maps. The survey team, sources said, wants to find out how much area has been used for constructing the twin towers.
The Emerald Court RWA has decided to hire a civil engineer for advice on the way forward.
The engineer will be tasked with coordinating with the Authority and the agency appointed to bring down the twin towers. The RWA wants an understanding of the protocols that are to be followed to ensure safety of residents before the demolition happens.