HYDERABAD: The joint committee, appointed by the National Green Tribunal (NGT), has confirmed encroachments at Ameenpur nalas leading to flooding of nearby colonies during the rains. The joint committee has also recommended immediate cancellation of construction permission granted to Lalitha Constructions and others.
The joint committee of Sangareddy district collector, senior irrigation officials and lake protection committee representatives said: "Encroachments and constructions are observed in the floodwater stream and its buffer area duly diverting the surplus course by dumping the soils and also reducing the width of the surplus course. It led to partial blocking of the flow of water."
The committee also said construction of houses was taken up on surplus stream and buffer zone. "It is observed that Lalita Constructions has built a club house in the alignment of surplus channel and buffer zone. An individual, Vemulawada Kumara Swamy, has constructed three individual residential buildings which are partly affecting the surplus channel and buffer zone," it pointed out.
During the rains, nearby colonies were inundated due to obstructions created in the natural water path because of dumping of soil and construction activity, the committee explained.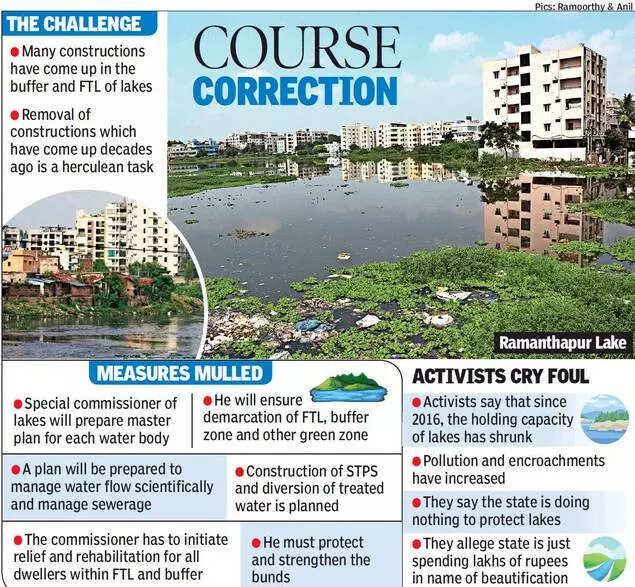 The National Green Tribunal appointed the joint committee on August 27 this year to inspect the nala and file a report after Human Rights and Consumer Protection Cell Trust and Krishna Brundavan Association filed a plea against Lalitha Constructions in the NGT southern zone.
They challenged the technical approval given to Lalitha Constructions for construction of five towers and blocks allegedly on floodwater canals on the outlet nala of Kothacheruvu tank and inlet nala of Bandam Kommu tank of Ameenpur.
The petitioners alleged that the builder damaged the natural flood canals and made deep excavations for constructing the towers, which led to flooding of adjacent colonies and caused damage to other private properties.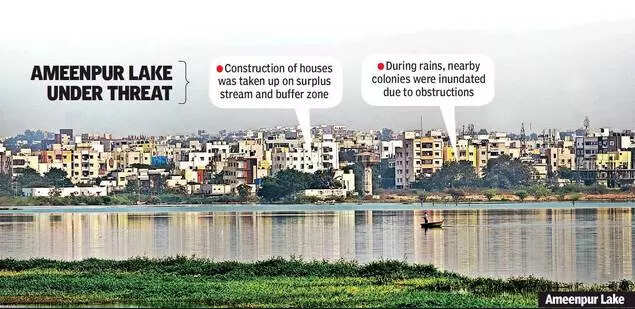 The petitioners demanded cancellation of HMDA's technical approval given to Lalitha Constructions and restore all floodwater nalas and to demolish the illegal constructions in the FTL and buffer zone.
"The respondent has got the building permission from Ameenpur gram panchayat.
We have informed the district panchayat officer to take action for cancellation of the permissions," said the joint committee.