GREATER NOIDA: Farmers who will be displaced because of the second phase of the Noida airport project have demanded a clear plan from the administration listing out the rehabilitation process and other benefits for the landlosers.
A public hearing of the social impact assessment report prepared by Gautam Buddha University, which was to be held on Sunday, has been deferred because the administration has sought a few more details. The government has also appointed a committee of seven multi-disciplinary experts to examine and evaluate the SIA report.
Kunwar Pal Singh (65), a retired engineer from NTPC and a resident of Ranhera, is in the panel. According to him, some 3,800-4,000 families are likely to be rehabilitated for the second phase of the project. The villages from where land would be acquired are Karauli Bangar, Dayanatpur, Kureb, Ranhera, Mundhera and Berampur. Among these six villages, most of the land would be acquired from Ranhera, which also has the highest population.
The villagers have objected to the rehabilitation plan adopted in the first phase. They have also pointed out that many youths who were promised jobs in NIAL were yet to get any training or employment letters.
"We have seen what happened to the 3,000-odd families who were displaced in the first phase. The local administration has given them the bare minimum benefits. In the second phase, it has to be better," said Kunwar Pal.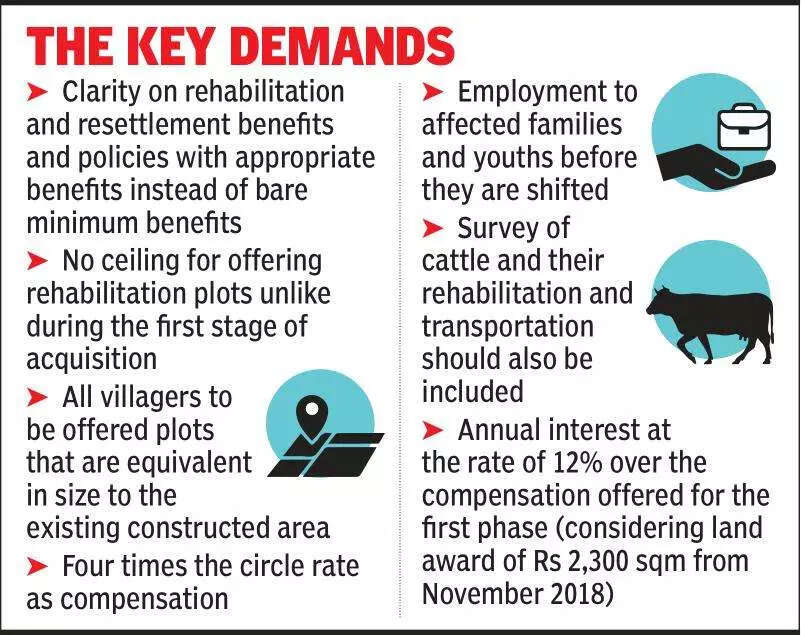 Another villager from Karauli Bangar raised similar objections. "Nobody is against the airport project. We are all willing to give up agricultural land. But moving out of our village is not easy. We have animals, machinery and a certain kind of lifestyle. The Jewar Bangar township is not fit to be called either a rural or urban settlement. It is somewhere in between. We do not want the same fate," he added.
Additional district magistrate (land acquisition) Balram Singh said, "The grievances of the villagers are being looked into. We have shared them with senior officials. Efforts are underway to augment the resources at Jewar Bangar. The roads are being widened at present and other infrastructural works demanded by the families are being looked into."