PUNE: The Maharashtra Real Estate Regulatory Authority (MahaRERA) has prohibited a total of 644 housing projects across Maharashtra from selling sny more units at their projects, due to delayed completion and delivery, with Pune accounting for nearly 30% of it.
Most developers of the blacklisted projects, according to released data, are smaller players with fewer than 100 units per project, aside from a few projects by reputed players in the region. Around 85% of the blacklisted projects had 70 units in every project on average. A blacklisting of such kind indicates that the project cannot be sold, marketed or advertised in any way.
The list also includes a few projects by the state government-promoted Maharashtra Housing and Area Development Authority (MHADA).
A report by the property market observers Anarock noted that 80% of the units in the 644 projects have already been sold. 16% of the projects were scheduled to be completed in 2017, while the rest were supposed to be finished in 2018, MahaRERA data showed. Due to the size of the market, Mumbai led the list with as many as 274 blacklisted projects, or around 43% of the total, with Pune following at 29%. The rest are situated in smaller markets, such as Nagpur, Nashik, Kolhapur, Aurangabad and others.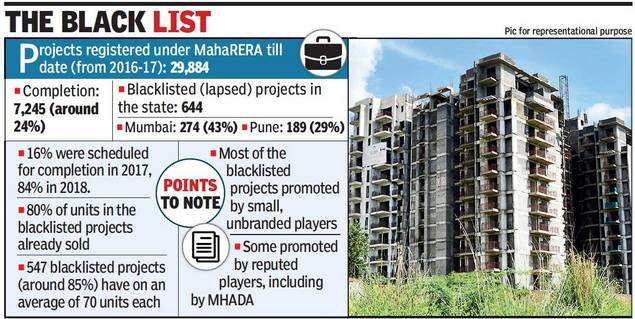 "This move by MahaRERA sends out a strong signal to errant developers who have being delaying projects incessantly. Homebuyers have been waiting to get possession since 2017 or 2018. The Mumbai Metropolitan Region (MMR) has at least 496 projects (launched in 2014 or before) that are either delayed or stuck as on date, while Pune has nearly 171 delayed or stuck projects," said Anuj Puri, the chairman of Anarock.
A developer in the region said smaller developers are increasingly struggling with RERA compliance, such as proof of capital and due diligence for land, with banks, NBFCs and housing finance firms often unwilling to advance capital to such players for the fear of low or insufficient securitization.