PUNE: The state government is expected to approve changes made in the Mann-Mhalunge town planning scheme by the Pune Metropolitan Region Development Authority (PMRDA).
Nearly 8.4 hectare of the total 250 hectares of the scheme falls in the flood line.
The scheme which has been stuck for the last four years may gain momentum once the government approves the proposal, PMRDA officials said.
The PMRDA which has been declared as the Special Planning Authority (SPA) for the scheme, sent the changes in the earlier plan on July 1 under section 92 of the MRTP Act. The proposed scheme has nearly 5,800 beneficiaries and was launched in 2018. The scheme enables the landowners to get back 50% of developed land in the same area.
Officials said they had to make variations in the scheme as nearly around 26 plots were falling in the flood line and this had to be re-adjusted.
"Seventeen plots in Mann and nine in Mhalunge were in the flood line area as per the earlier proposal which was objected to. The corrections were made and sent to the state government for approval. The CM is the chairman of the PMRDA and his approval will be required," the officials said.
The scheme was launched in 2018 as ideal for town planning. Authorities feel that if the state government speeds up the clearances then the scheme which has been pending for the last three years will gather momentum.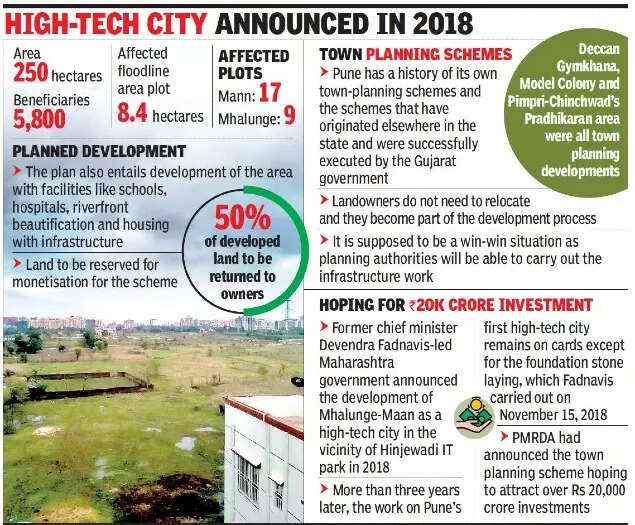 "The last 16 months have gone by in the pandemic. Now, there is variation. Once the government clears it, then the process of intention followed by suggestions and objections and other clearances can be received," the official shared.
The execution of the project will pave the way for more proposed townships. Avtade Handewadi, Wadachiwadi, Holkarwadi and Manjari and 26 more town planning schemes have been proposed in the PMRDA's draft DP. The projects are based on the Ahmedabad town planning scheme under which 78 townships have been developed over 10 years. The present ring road can cater to 50 townships, the official said.
Challenges include maintaining communication with the villagers. The schemes have been proposed in an effort to make the 128-km ring road project self-sustainable with planned development in the area.