KOLKATA: A sizeable portion of construction waste and debris generated in added areas like Garden Reach, Metiabruz, Behala, Jadavpur or areas located off EM Bypass are being used to fill up ponds by land sharks. This issue featured prominently in a meeting between the KMC board of administrators and senior Lalbazar cops.
The meeting was convened at the civic headquarters to discuss ways to prevent encroachment of ponds and illegal constructions. Formation of a special joint team comprising senior civic officials and cops has been planned to pay special attention to complaints from Metiabruz, Behala, Jadavpur and EM Bypass.
Sources in the KMC buildings department confirmed that land sharks were active in filling ponds in added areas where demand for affordable housing projects is steadily rising and a section of the civic officials and police officers was caught napping.
"The land sharks take a cunning approach in filling ponds or small waterbodies. When they set their eyes on a particular pond which needs to be filled to facilitate construction of flats in an adjacent land, the entire land including the pond is barricaded. Then they start filling up the pond with construction waste. This work is carried out at night. Side by side, an attempt is made to pump out the water of the pond. This filling process is done very fast," said a KMC buildings department official.
KMC board of administrators chairman Firhad Hakim recently stressed on formation of a special team to prevent rampant pond filling. He said this after he got a call from Nadial in Garden Reach during a "Talk to KMC" session. The caller informed him about filling of a large pond in the neighbourhood. Hakim assured the person that necessary action would be taken. Accordingly, a KMC team of officials were sent to the spot and the pond was restored by the civic officials in a week.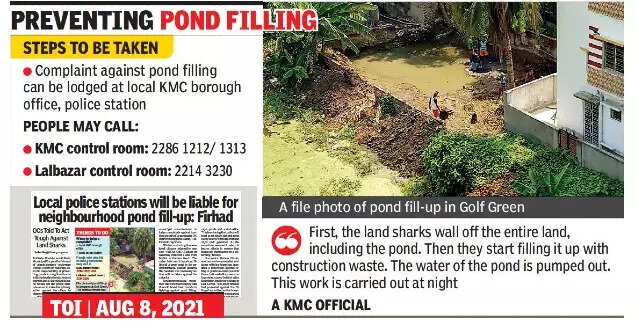 The KMC buildings department has warned the assistant engineers in the boroughs against any sort of inactions in the event of filling of ponds or construction of illegal buildings under their jurisdiction.
According to a KMC buildings department official, the borough executive officers of the buildings department would need to keep in touch with the OCs of the local police stations.
"If any assistant engineer or even an executive engineer is found dragging his/her feet even after a genuine complaint of pond filling or illegal construction we will take stern action," the civic official said.
According to a department source, the civic body will step up its vigil over pond filling activities in added areas and prepare a list of the ponds which need immediate protection from land sharks.