KALYAN: In a shocking claim, a developer from Dombivli whose five-storey illegal building was recently demolished by the Kalyan-Dombivli Municipal Corporation (KDMC), has claimed that ahead of the demolition, two senior civic officials including deputy municipal commissioner and ward officer had taken a bribe of Rs 27 lakh from him to not demolished the construction.
Builder Munna Singh has submitted CCTV footage from the hotel as evidence to KDMC commissioner Dr Vijay Suryawanshi, where the civic officials had come to meet him to take the money, and demanded action against them.
Meanwhile, after the developer's complaint, the KDMC chief has initiated an inquiry in the matter saying as per finding, future action will be taken into the matter.
Singh had constructed ground plus five-storey illegal buildings in Davdi area in Dombivli which was on a reserved plot for the road.
Singh alleged that he had taken up a project for redevelopment as people were already residing at a place in the chawl room.
Singh alleged that he had given Rs 27 lakh to ward officer Deepak Shinde and deputy municipal commissioner Anand Kadam on August 24.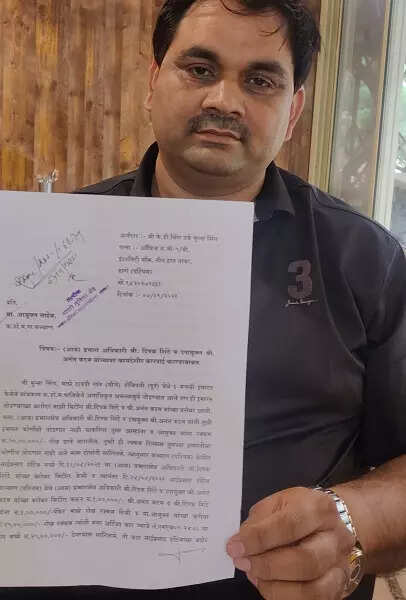 Singh also alleged that after taking Rs 27 lakh, the duo made a demand for more money, but when he did not give them, they demolished his building on September 2.
He further claimed that due to demolition, he lost all his life's savings of around Rs 7 crore including around Rs 75 lakh that he gave as a bribe to different officers to get the building constructed.
He said that he wants civic officials who took money from him to be punished and no other builders in the city should suffer as several such buildings are working by paying bribes like him.
However, reacting to Singh's claim, Dr Surywanshi told reporters that inquiry has been initiated against duo officials, and as per finding, further action would be taken in the matter.