MUMBAI: Mumbai's upcoming high-rises, some as dizzyingly tall as 300 metres (close to 90 floors), are posing a new problem – their upper floors offer a spectacular and sweeping view of the bay, but on the flip side, they are not within reach of the Fire Brigade. In other words, for those on the 40th floor and beyond, the building's internal systems will have to kick in on time before they can be evacuated amidst a blaze or a short circuit.
The issue has come to the fore since the One Avighna Park incident in central Mumbai in which defunct sprinklers caused a fire on the 19th floor to spread. A guard was killed and an apartment gutted before the Fire Brigade could swing into action and activate the building's fire-fighting systems manually. The property developer has since pointed out that illegal alterations carried out by a resident caused the malfunction.
According to data received under the Right To Information (RTI) Act, a total of 57,540 fires have broken out in Mumbai between 2008 and 2020. Of these, 1,568 fires were reported in high-rises between 2008 and 2018. In all, 680 people have died in the fires and property worth over Rs 90 crore damaged in the last 12 years.
The Fire Brigade has tried to meet the challenge by acquiring ladders to scale taller buildings. A height of 70 metres or 22 floors is now well within reach of their spray. But the catch, as officials from BMC's Building Proposal (BP) wing point out, is that 70 metres is the new normal in Mumbai.
According to estimates, over the last five years, 275 buildings have sprung up that are 24-70 metres high and at least 35 that are over 70 metres tall. Currently, there are 168 such skyscrapers that are over 70 metres, some as tall as 300 metres. And data from BMC shows that around 1,500 more towers in the 24-70 metre range will come up in the next 2-3 years while at least 12 will be over 250-300 metres tall, which is close to 90 floors, a height that's virtually impossible for the Fire Brigade to scale.
"We can easily reach 70 metres. And we have ladders that can reach 90 metres (30 floors), depending on the location. But due to congested roads and poor access, we can't reach 90 metres in most cases. And we have buildings taller than 300 meters now. The highest ladders in the world only go up to 112 meters. But since we have narrow roads, underground utilities and high wind speed, these ladders can't be used. So we need the internal fire fighting systems to work. The building itself must fight the fire and the Fire Brigade can supplement it," said RS Choudhary, deputy chief engineer, (technical), Mumbai Fire Brigade.
Vinod Chitore, BMC's chief engineer, development plan, said, "There has been vertical growth…tall buildings are coming up all over the city except in the airport funnel zone. A large concentration is in Lower Parel, Worli, the western suburbs and now the eastern suburbs. The onus is on the builder and the society to ensure that fire-fighting systems are always functional and no internal changes are made in the buildings."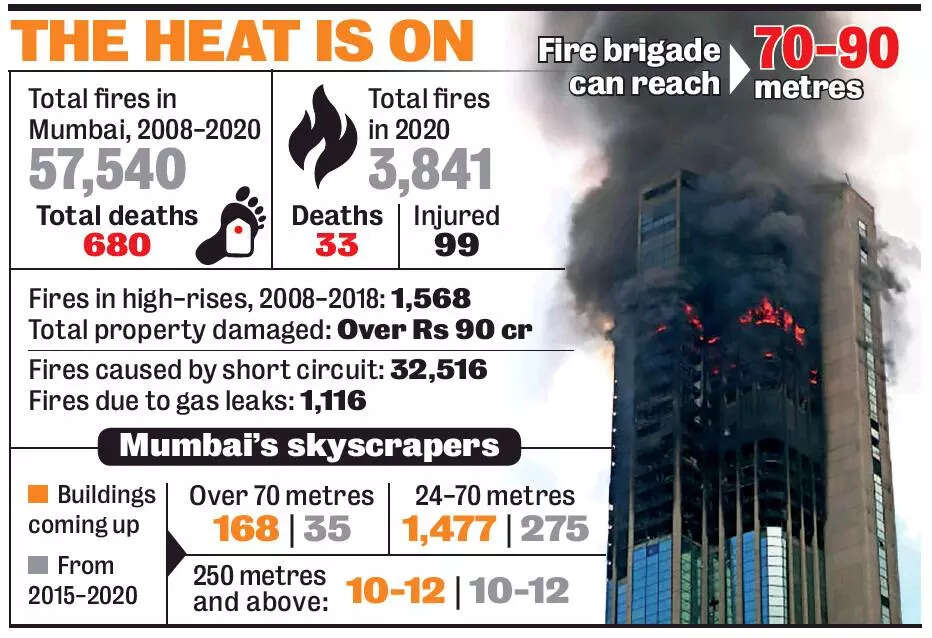 Chaudhary said the Fire Brigade will soon commission a tower water van. This is a 55-metre-tall contraption to tackle blazes on narrow roads and on properties surrounded by shanty settlements. With five expandable arms, it can stretch from atop a structure to spray water even if firemen or tankers cannot reach the site. Pegged at Rs 12 crore, the vehicle may be added to the arsenal in a few weeks. But this too will only be able to reach a maximum height of 45 storeys.
"There is only so much we can do. Those living in high-rises must ensure that the fire fighting systems are always working. Fire safety must be a mandatory part of all Annual General Meetings in high-rises. Housing societies must ensure that all systems are working and the licensed fire safety agency is doing its job well," Chaudhary said.
Samajwadi Party MLA and corporator Rais Shaikh says the answer lies in bringing tough provisions into the Maharashtra Fire Prevention and Life Safety Measures Act.
Stern action taken not just against the office bearers of a society or developers but also the agency appointed to maintain the systems, is the key.
"A private firm's licenses must be terminated permanently if they submit bogus compliance," Shaikh said.
According to the norms, a certificate signed by a licensed fire expert must be submitted every six months to the Chief Fire Officer stating that all fire safety measures and equipment are in working condition.
"Unless the building itself fights the fire first, the Fire Brigade can't fight it. Fire compliance must be taken seriously or it can harm the safety and life of occupants," Chaudhary said.