NEW DELHI: After many east Delhi residents failed to pay their property tax because of technical issues before August 31, the last date to get the rebate, East Delhi Municipal Corporation (EDMC) on Tuesday extended the deadline to September 15.
While some taxpayers had failed to generate OTPs, others couldn't get their Unique Property Identification Code (UPIC) number even after a month. A few were unable to upload information.
However, officials claimed that problems had arisen as people were selecting the wrong ward numbers, categories for filing tax and making multiple attempts without waiting for some time, which was leading to a backlog in the system.
"We have fixed almost all glitches. Now, only those people who are entering wrong information, ward number, etc are failing to register for the UPIC number. Taking note of the issues, we have extended the deadline till September 15 for getting the rebate and submitting a lump sum tax. However, those who want a new UPIC ID will need to apply online mandatorily by September 10. Thereafter, no rebate will be given," said an EDMC official.
Ravinder Singh Negi, a resident of Mayur Vihar Phase-I, said since July, he had made several attempts to generate the UPIC number, but failed each time. "It seems the online system has been developed just as a formality. Everything is so technical that a normal person will need guidance to file the tax. Even then there are chances of error," he added.
Satish Rastogi, a resident of Laxmi Nagar, had similar grievances. "I didn't get an OTP on my mobile number, so couldn't pay the tax by August 31," he said.
This time, filing tax online has been made compulsory. As a result, people, especially senior citizens, are finding it difficult to complete the exercise. The EDMC commissioner had called a meeting last Thursday to sort out the problems and issue guidelines.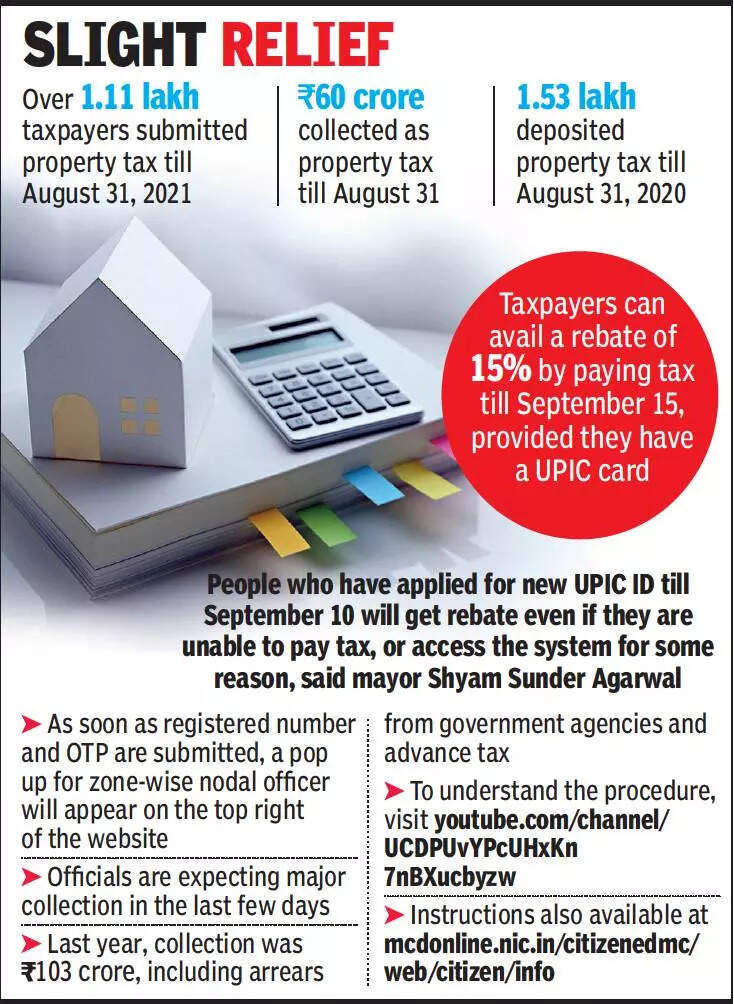 "I faced a problem in submitting tax because the online payment system was not functioning properly," said Neha Banerji (name changed), a resident of Mayur Vihar-I.
Vinod K Nair, RWA president of Pocket D, Mayur Vihar-III, said EDMC should make people aware of the procedure and share helpline numbers so they don't make mistakes.
A senior EDMC official said almost all cases regarding generation of UPIC numbers had been resolved. "As of now, only 4,000 cases are pending and will be sorted out in a day. Though we had uploaded 5 lakh UPIC numbers after a survey, issuing a fresh number takes at least 4-5 working days because the information has to be verified. EDMC issues 15-digit alphanumeric UPIC numbers," added the official.
"The problem arises when people whose UPIC numbers are already uploaded attempt to generate fresh ones without verifying it on the portal. This increases the load on the system. Many select the wrong item, ward number, etc in drop down boxes, which results in error. People might have also given wrong mobile numbers during the survey," said the official.
EDMC standing committee chairman Bir Singh Pawar agreed that there were complaints for difficulty in tax submission. "We are shifting the EDMC website to the NIC portal. In the process of making the system robust, we are facing some technical issues. This is why we have extended the deadline and asked residents to approach us for help," he said.