NEW DELHI: With the Covid-19 pandemic impacting the real estate sector, Delhi government has seen a considerable dip in the stamp duty collection.
The revenue collected through the property registration fees has also declined since April 2020, with the government earning Rs 956.5 crore less in 2020-21 on both counts as compared to 2019-20.
According to the data obtained from the revenue department, Rs 3,072.1 crore was collected from stamp duty between April 2019 and March 2020 while only Rs 2,200.7 crore was collected between April 2020 and March 2021. Stamp duty is collected by a state government on the sale of property during its registration.
The government's income from registration fees has also been hit. Between April 2019 and March 2020, over Rs 659 crore was collected while only Rs 573.9 crore was received between April 2020 and March 2021.
A revenue department official said the decline had been witnessed across the city and hit the overall revenue collection through stamp duty and registration fees, which reduced to Rs 2,774.7 crore in 2020-21 as against Rs 3,731.2 crore in 2019-20.
In 2018-19, Delhi government had earned around Rs 4,459 crore under these two heads. According to the 2019-20 budget documents, the revised estimate of revenue collection was Rs 4,897 crore and the budget estimate was increased to Rs 5,297 crore for 2020-21.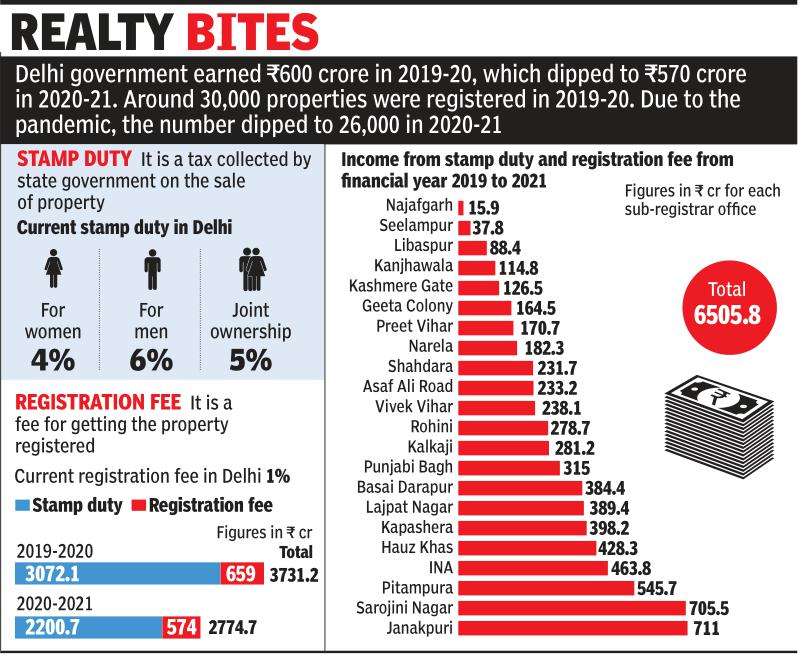 However, due to the nationwide Covid lockdown, the registry offices were closed for a few months in 2020, said an official. The department had anticipated a bigger fall in the collection from the real estate sector when the pandemic hit the country and all such offices were shut during the lockdown last year, he added.
Though the 2021 figures are not available, revenue officials claimed the Covid-19 impact had dissipated and the situation was currently in the recovery mode. The stamp duty collection and registration fees are witnessing a surge once again, said the official.
To boost collection in the real estate sector, Delhi government in February slashed the circle rates by 20% for all categories of properties for six months, which had reduced the charges by 1% point.
The real estate market in Delhi for primary sales is not as big as the neighbouring Noida and Gurgaon, but it has a big resale market.