CHENNAI: Commercial complexes and business establishments across the city who have not paid property tax dues for the past few years might wake up to Greater Chennai Corporation tax notices at their door.
Zonal level revenue officials of the civic body have started a drive to collect tax arrears from high-value defaulters, those who owe more than Rs 50,000 and Rs 1 lakh.
On Saturday, an office complex on Anna Salai was issued a notice to pay up tax arrears to the tune of Rs 34.7 lakh. Similarly, a restaurant in T Nagar was also issued a notice to pay up arrears of several lakhs. The outlet was also sealed by officials.
In Thiru-Vi-Ka Nagar zone, a mall was issued a notice to pay Rs 1.2 crore a few days ago. It raised individual bills to 10 different commercial establishments inside the mall, officials said.
Officials have also been asked to tag along with their counterparts of Chennai Metrowater Supply and Sewerage Board (CMWSSB) and Tangedco and cut off water and electricity connections if the arrears are not paid.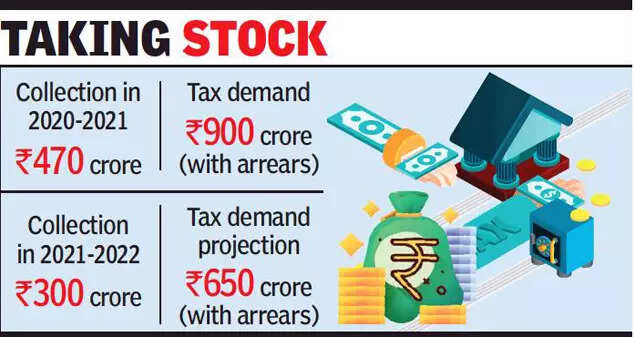 Sources in the civic body said there are at least 500-600 who have a default of several lakhs. "We have been asked to collect arrears up to 2018. This is a routine process to shore up our tax revenue for the first of the half year," said a couple of zonal level officials.
Sources said tax demand targeted for the first half of this financial year by GCC is around Rs 650 crore including previous year arrears. "This is mainly because last year's collection was extremely poor owing to the pandemic. Businesses were stressed and hence tax was not collected," an official said.
In the 2020-21 financial year, GCC was able to collect only around Rs 470 crore, half of their targeted demand. In comparison, this year GCC has already collected around Rs 300 crore.