MUMBAI: After a failed bid to increase property tax by 14% in June, the BMC has proposed to raise the 'beautification cess' by 5%.
The BMC collects beautification cess from housing societies and properties that have water ponds, water fountains and other landscaping with water components.
The proposal to hike the beautification cess by 5% was moved by the BMC administration and will be placed before the standing committee on Wednesday.
According to officials, all housing societies or properties that have a swimming pool, ponds or water fountains have to take permission from the BMC's Pest Control Officer (PCO).
The PCO collects an annual fee from these properties. "This beautification cess has not been hiked for many years. From the current, Rs 6,000 per year and a deposit of Rs 20,000, the cess will go up to Rs 6,300 and the deposit will rise up to Rs 21,000. So this is only a marginal hike. The BMC will earn some more revenue from this," the official said.
The opposition BJP said the increase should be deferred as people are already reeling with income shortage due to Covid-19 lockdowns.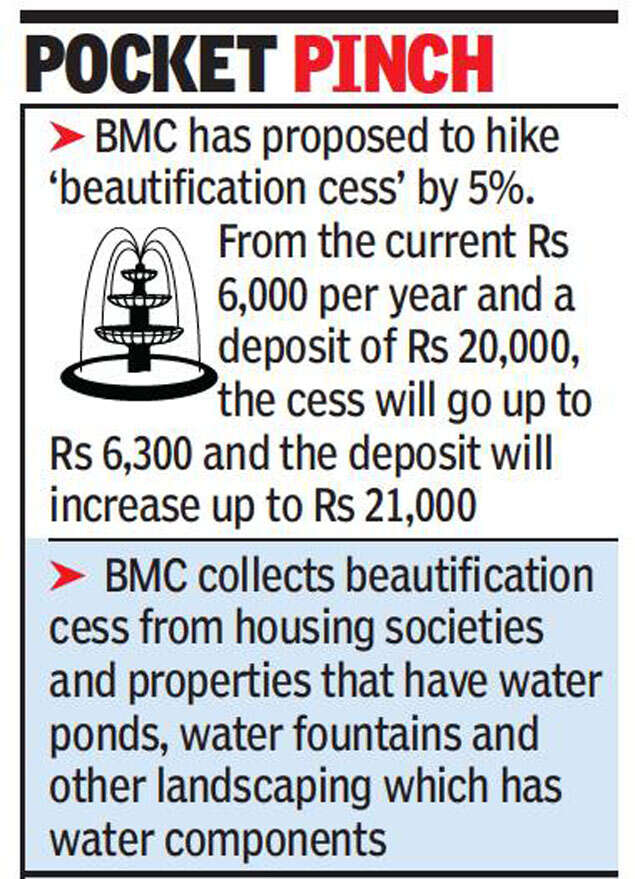 "The BMC must not impose any hikes even if it is marginal. People don't have money to pay maintenance bills and at such a time proposing a hike is unfair," said BJP Corporator Vinod Mishra.
The standing committee in June 'rejected' the BMC's proposal to increase property tax by around 14%. With stern opposition from the BJP and the Congress, the Shiv Sena moved a motion to record the proposal, which was cleared by the standing committee.
The BMC wanted to increase property tax rates by 14% by proposing to calculate it on the basis of the new Ready Reckoner (RR) rates.