KOLKATA: The Kolkata Municipal Corporation buildings department has sent an alert to borough executive engineers, asking them to keep a close watch on highly vulnerable buildings in their areas after a fresh caution for rain in August was issued.
Borough executive engineers were asked to take stock of the condition of the insecure buildings following the partial collapse of five unsafe houses across the city in the past six days. The first collapse, that of a portion of a century-old building, was reported from Bhowanipore last Sunday. This was followed by a series of collapses in areas, such as Girish Park, Jorabagan and Mudiali.
Incessant rain could lead to many more such accidents in the days to come, felt a civic engineer. According to a KMC buildings department engineer, the reason behind the collapse of a large number of buildings lies in the fact that most of these are century-old and made of lime and mortar.
"Instead of using cement, most of these century-old buildings were constructed with lime. When water seeps into the structures after a heavy spell of rain or even incessant drizzle, followed by a sunny morning, the lime used as cementing agent weakens leading to the collapse," the civic engineer said. With the monsoon still active in the region, the KMC engineers are keeping their fingers crossed.
A section of the KMC buildings department officials even cautioned that major accidents could take place in the absence of proper repair of the dangerous buildings. "We have reasons to feel worried about the fate of residents who, despite our repeated appeals, have continued to live in the dilapidated buildings that may collapse in monsoon. Urgent repairs need to be taken up for most of the buildings we have termed 'insecure' after examining their structural stability," said a KMC buildings department official.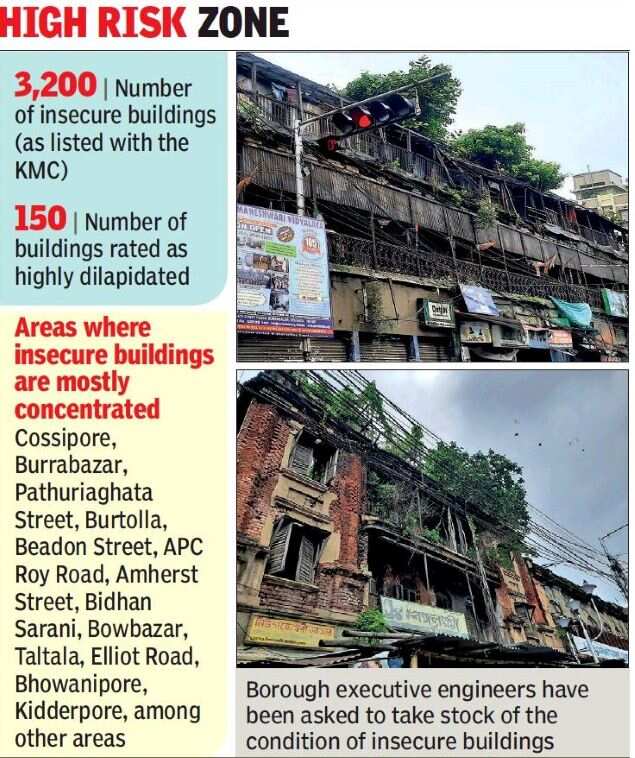 According to the official, the civic body was particularly worried about the fate of 80 highly dilapidated buildings located mostly in north and central Kolkata. Some of these buildings are located in areas, such as Cossipore, Chitpore, Burrabazar, Burtolla, Shyampukur, Beadon Street, Bidhan Sarani and Pathuriaghata Street.
There were also a considerable number of old and dilapidated structures in south Kolkata, like Bhowanipore, Lake Road, Kidderpore which needed urgent repairs, a civic official said. "We are keeping a vigil over some of these structures. We have already issued notice to them, asking the tenants residents to vacate them," a KMC buildings department official said.