NOIDA: To complete construction work on their plots, all allottees in Noida will be offered a time extension of six months at no additional cost.
The condition, officials said, is that they should have been allocated the plot by Noida Authority before July 2 last year.
Acting on the demand of the allottees, the Authority had moved a proposal — pending for more than a year — before the board on September 24 for approval. On the lines of the decision taken by the Uttar Pradesh housing and development board, the authority had been asked to grant a waiver to the allottees who could not submit documents due to the strict lockdown that was imposed during the first wave.
Treating the pandemic outbreak as a 'Force Majeure' event, the Authority also appealed to the state government to grant more time to the allottees for not being able to finish the paperwork.
It was only in September last year, that the Authority started shifting its services online and encouraged allottees to submit their applications without the need of visiting the office premises physically.
"As Sector 6 office was shut from April 2020 for five to six months, we could not submit the maps and documents. And on applying later, the Authority asked for time-extension charges. We wanted to add another floor to our office and sought the Authority's approval at that time," said Dharmendra Singh, an entrepreneur from Sector 61.
The Authority commands a minimum of 4% of the land premium for giving an extension of up to one year for seeking completion or a functional letter. The charges vary up to 20% for a year of the land premium in case of seeking an extension for completion over a commercial plot five years from the stipulated deadline. The timeline for seeking the completion or a functional letter is provided in the allotment letter.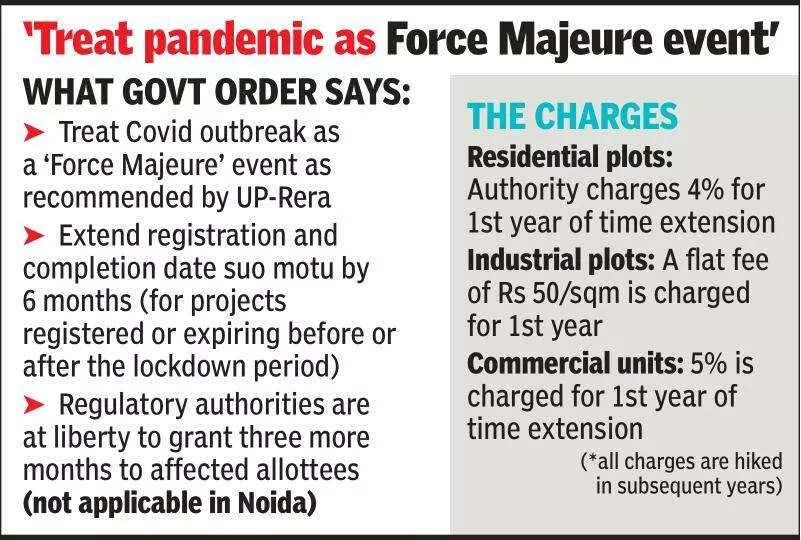 In her order issued on October 8 (Friday), the chief executive officer of the Authority, Ritu Maheshwari stated that the cut-off date to apply for the waiver has been kept as July 2, 2020. Maheshwari added that those who had been allocated the land before that date are eligible to seek the benefits of the scheme. "Allotment done post the cut-off period will not be considered," said an officer on special duty of the Authority.
Being a part of NCR, Noida had started imposing restrictions on the movement of the public from March 22, 2020, soon after some Covid cases were detected. The three development authorities remained busy with sanitisation and fumigation activities as well as for urban services during the lockdown period.
The Noida Authority's work was hit between March 22 and September 21. Since no online platform was available to apply for the completion letter, the Authority is going to consider it a 'zero period' and will not levy any charge on the allottees who had to get their lease deeds executed during the six-month window.