AHMEDABAD: In over two decades the highest number of town planning schemes — those which form the basis for future urban planning and development of a particular area in a city — were passed in past 5 years.
Recently Ahmedabad Urban Development Authority presented a report where it claimed that between 2016 and 2020 some 80 town planning maps were prepared covering an area of 11,441 hectares. Of these, 28 plans have received final sanction from the state government for an area of 2,611 hectares.
Till 2000, only 40 TP schemes were prepared by Auda. But between 2001 and 2015 during each 5-year-term, 43, 40 and 42 TP schemes were prepared by Auda. The TP scheme is a crucial planning tool which allows appropriation of land for public purposes such as building street networks, social amenities and other infrastructure. It helps organize urban growth in a planned manner.
Senior officials claim that this has lot to do with the different phases of the city's expansion. The first development plan of 1965 had proposed a ring-shaped 240m wide green belt extension. Subsequently, a new plan proposed an expansion of 8.4 sq km. This was in a year when the total municipal area was 93 sq km. Today, the urban agglomerate area of the city, including Auda areas, is around 1,900 sq km with a covering 9% of the total land cover.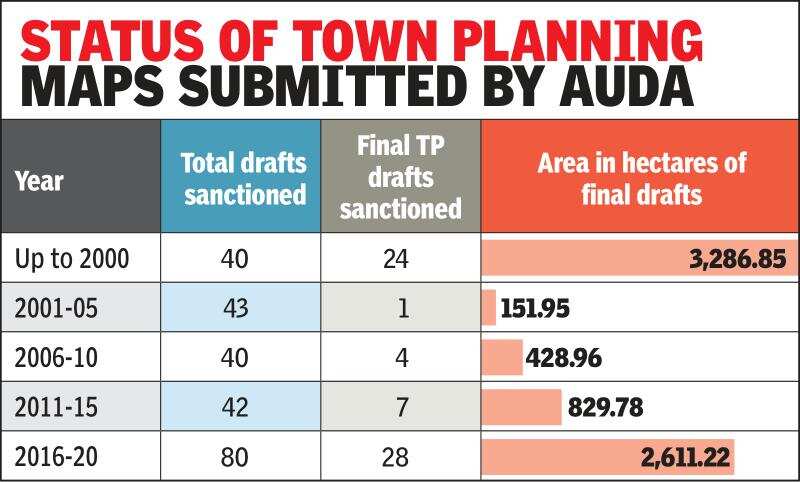 "The aim of green belt was to restrict urban sprawl and balance open versus built development and act as a sink for urban pollution," claims a World Bank paper authored by Madhu Bharti and Shagun Mehrotra. But this proposal met with resistance as landowners were unhappy with AMC's compensation and challenged the plan in court.
In the 1980s and 1990s the report states, the city rapidly expanded beyond municipal limits, leading to fragmented urban expansion, particularly along the western fringes of the city.
"This was partly attributed to the Urban Land Ceiling Act, 1976, which led to artificial rise in land prices within city limits. Over time, many encroached on these green belt reserves to build houses," states the paper.
The green belt was conceptualized in 2001 revised plan to facilitate integrated urban development along city's metropolitan periphery.