AHMEDABAD: Four years after it was inscribed a world heritage site, the Ahmedabad Municipal Corporation (AMC) has now launched a 'single window clearance' system for heritage conservation and restoration permissions for owners of listed heritage homes and institutions. The standing committee on Thursday approved the policy.
The committee was also informed that 13 listed heritage buildings have been demolished while 230 heritage homes are yet to tagged with special heritage plates.
According to the new policy, owners of heritage properties in the walled city will not have to apply separately for heritage elements assessment, road line deductions and to the ASI for NOCs to apply for transfer of development rights (TDR) certificates. TDR can be sold to developers so that the funds can be used by heritage home owners for repair and conservation.
"Earlier, the applicant had to submit three different affidavits to three different departments for permissions. Now this will not be the case. An applicant who wants to restore his or her property has to apply to the AMC on a Rs 300 stamp paper. The rest will be handled by the AMC," said a senior AMC official.
AMC standing committee chairman Hitesh Barot said detailed documentation of timber heritage buildings is being prepared and will be provided to the individual home owners free of cost.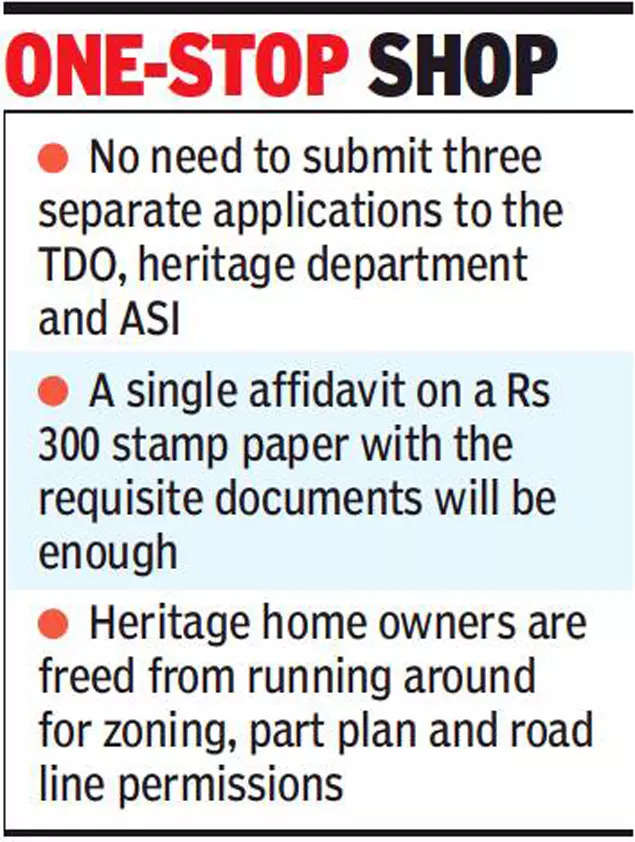 "With this new arrangement, there will be greater co-ordination between the town development officer (TDO) and the heritage department of the AMC while processing files for TDR purposes," said a senior AMC official.
Sources told TOI that the AMC is yet to come out with a conservation plan for the heritage zone. It is reliably learnt that it has also not finished documenting the 1,800 timber havelis — a document that was to be submitted to Unesco by September 2019.
The AMC has thrice failed to meet deadlines it had committed to Unesco since October 2017.
Now, anticipating a surprise review visit from the Unesco thinktank International Council on Monuments and Sites (ICOMOS), the AMC wrote to ASI in Delhi a fortnight ago, to appeal to Unesco for an time extension so it can come out with a conservation plan, citing Covid as the reason for the delay.