GHAZIABAD: The Ghaziabad Development Authority (GDA) has identified about 650 hectares of land along the Guldhar and Duhai stretch of the Regional Rapid Rail Transit System (RRTS) corridor that will be developed as a special area development zone (SADA). A proposal for the same will be placed before the GDA board that is slated to meet on August 26, officials said.
The existing floor area ratio (FAR) along this stretch is 1.5 but after the declaration of the zone, it may go up to five.
Officials said this would help the GDA realise about Rs 500 crore of revenue from realtors, though it will be just a fraction of the UP government's share of Rs 6,500 crore for the Rs 30,724 crore RRTS project.
"Along the RRTS corridor in Guldhar, we have identified 450 hectares of land and 200 hectares in Duhai, which will be developed as SADA," said Asheesh Shivpuri, chief architect and town planner of GDA. "Once the proposal is cleared by the GDA board, a zonal plan of the identified areas will be prepared, followed by a layout plan."
"One of the main benefits of SADA will be an increase in FAR to a maximum of 5 from the existing 1.5. The increased FAR will help generate a revenue to the tune of Rs 500 crore, which will be used to meet the UP government's share of cost that it owes to the National Capital Region Transport Corporation (NCRTC) that's executing the project," he added.
Apart from this, there is a plan to develop an 'influence zone' along all the RRTS stations falling within the jurisdiction of Ghaziabad.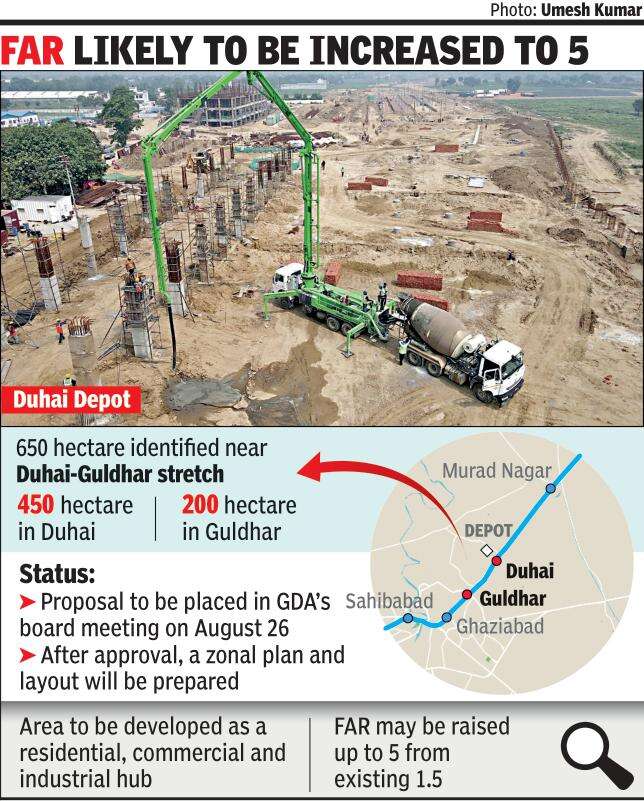 "The influence zone will stretch up to 1.5km on both sides of the eight RRTS stations in Ghaziabad. The areas around the RRTS stations are already developed but these will gain from RRTS and accordingly we will initiate land use change to attract investment to meet the cost," said Shivpuri.
The eight RRTS stations falling within Ghaziabad are Sahibabad, Ghaziabad, Guldhar, Duhai, Muradnagar, Modinagar South and Modinagar North.
Meanwhile, the NCRTC has started track-laying work on the 17km priority section of the RRTS corridor from Sahibabad to Duhai. Of 82.15km, 70.5km will be on elevated platforms, 11.5km will be underground. Two maintenance depots at Duhai and Modipuram, respectively, are also coming up. The entire RRTS corridor is expected to become operational by March 2024.