PUNE: Nearly 30,000 co-operative housing societies across Maharashtra are awaiting the state government's orders for conducting elections after August 31 to elect new managements and plan redevelopment pending for long.
Maharashtra Housing Federation vice-chairman Suhas Patwardhan on Wednesday said those societies had been waiting for long to conduct the elections that could not be held because of the pandemic. Of these 30,000 housing societies, 4,000-5,000 are from Pune.
"Redevelopment cannot be proposed unless these housing societies elect their respective managements. Redevelopment is of two types — either by appointment of a builder by a society or the society going in for selfredevelopment by appointing an architect or contractor. In the second case, the society can gain an additional floor space index (FSI) and get single window clearance and concessions in Transfer of Development Rights (TDR), bank interest and stamp duty. But for all this, the elections have to be conducted," he said.
The elections in the housing societies were supposed to be held in April. But the state postponed the elections after August 31 due to the rise in the number of Covid cases.
Maharashtra Societies Welfare Association chairman Ramesh Prabhu said the housing societies were awaiting government orders about elections to take forward the redevelopment proposals. "The Unified Development Control and Promotion regulations applicable to Maharashtra provide a lot of incentives, such as FSI and TDR concessions, to encourage redevelopment of the buildings that are over 30 years old," he said.
"These societies were constructed with one FSI about 30 years ago. With the new development control and promotion regulations in place, these societies can construct the new building with 2.5 or even 3 FSI across the state, depending on the road width," Prabhu said.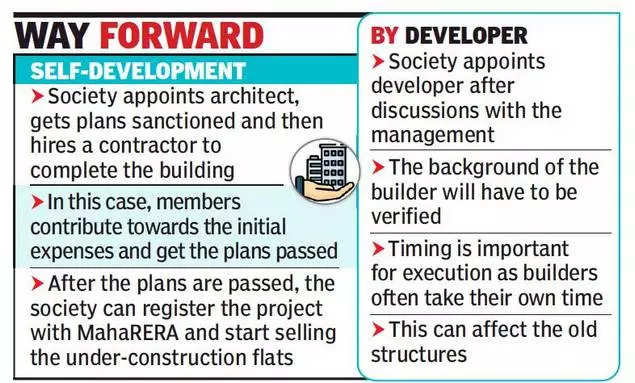 "This being a policy decision, the societies are waiting to elect a new committee which is held up since 2018 first due to the amendment to the Maharashtra Cooperative Societies Act, 1960, and then the pandemic. We hope that the elections will be held next month," he said.
A member from a housing society in the southern part of Pune told TOI that their existing committee had resigned almost 18 months ago and no decision could be taken on the redevelopment since then. "We have a preliminary meeting to plan for redevelopment. But unless the new committee members are elected, we cannot go ahead," he said.
Consumer activist Shrikant Joshi said the government should not further delay the elections. "There are several other pending works, besides redevelopment, that have to be taken forward. Redevelopment is an important decision and it cannot be held up because the government is not allowing the (housing society) elections," he said.