HYDERABAD: The Hyderabad Metropolitan Development Authority (HMDA) is planning to serve notices on bidders who have not cleared their dues after winning the bids in Uppal Bhagat layout near Nagole.
Twenty eight bidders owe Rs 45 crore to the HMDA, which has already given extensions and relaxations twice in the last three months.
The HMDA had recently earned Rs 2,000 crore from the land auctions at Neopolis layout in Kokapet.
As many as 155 plots were auctioned by the HMDA in Uppal Bhagat layout in April and December 2019 which fetched Rs 1,057 crore. The layout was developed by the metropolitan authority under land pooling scheme by taking over 700 acres from farmers owning land on the Musi bank.
Official sources said the bidders have paid Rs 1,012 crore till now. "Initially, they paid 33% of their amount, but due to Covid-19 pandemic and lockdown, the bidders could not pay the amount. The HMDA gave time till March 31, 2021, and later it was extended till June-end. Twenty-eight bidders are yet to clear the balance amount," official sources in the municipal administration department said.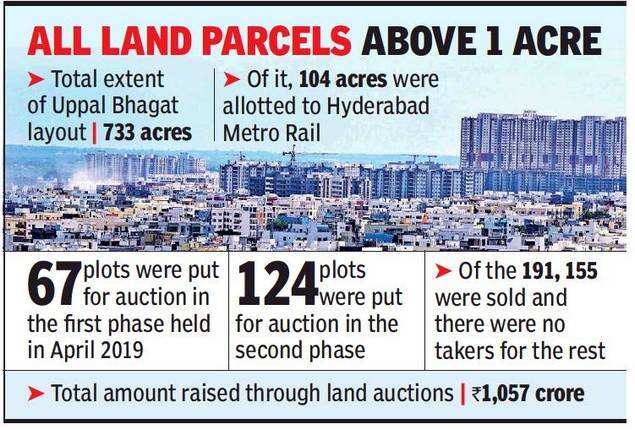 Among the defaulters, around 20 of them won the bids in the first phase of auctions, while another eight secured the plots in the second bids held in December 2019. "If the bidders do not come forward to pay the balance amount, the HMDA will forfeit the paid amount or it can collect 15% of interest on the balance amount," a senior municipal official said.
Problems arose since many bidders are real estate agents and firms which purchased the land in Uppal Bhagat and now struggling to sell off the land as a result of pandemic-induced slowdown. They are seeking more time from the authorities for clearing the dues.
The HMDA, which had apprehensions about payment of initial 33% of bidding amount from Kokapet land auctions, heaved a sigh of relief after all the eight bidders (some took more than single land parcel) paid the initial amount of Rs 650 crore on Wednesday.