GHAZIABAD: The district stamp and registry department has issued notices to as many as 22 builders who have given possession of flats to buyers without the mandatory registration, resulting in loss of revenue to the state exchequer. The department had earlier lodged FIRs against 18 of them for the violation.
Officials said these 22 builders have, in the past four years, sold about 15,000 flats without getting the registries done, due to which Rs 70 crore is pending as dues.
KK Mishra, assistant inspector general of stamps, said, "As per rule, the registry of a property needs to be done at the time of sale, but builders in many cases deliberately put the same on hold even after executing the sale deed. Because of this, over Rs 70 crore is stuck."
In 2019, the department lodged FIRs against 18 erring builders but that was not enough to goad them to get the registries done. "We are now issuing fresh notices to all the erring builders and will also take up the issue of pending FIRs with the police and the district administration," Mishra said.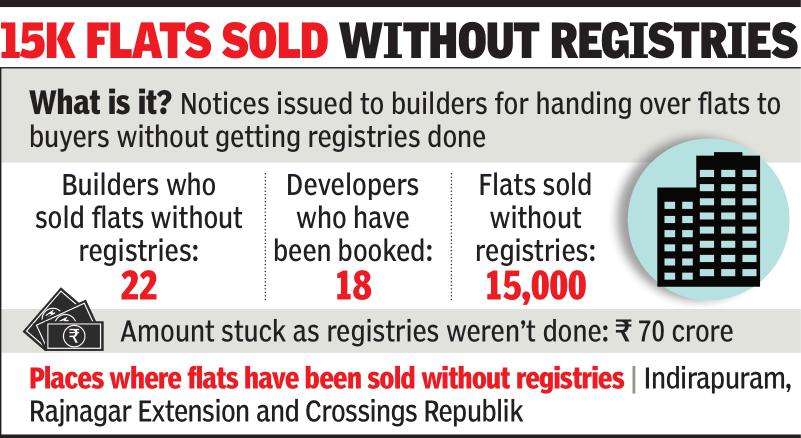 On reasons why builders don't get registries done, Mishra said, "First and foremost it has come to light that some realtors wilfully violate building bylaws as a result of which development authorities like GDA and the UP Housing Board refuse to grant them completion certificate which is a must at the time of registry."
"Builders also deliberately delay registries that give ownership rights to the buyers and in such cases, these realtors continue to remain the de facto owners of the properties and get single-point electricity connections so as to fleece the buyers through inflated power bills," he added.
The areas where this practice is prevalent include Indirapuram, Raj Nagar Extension and Crossings Republik.