AHMEDABAD: Just before the decadal development plan for Ahmedabad is put forth, Ahmedabad Urban Development Authority (Auda) submitted a detailed list of upcoming and ongoing projects worth Rs 1,900 crore recently.
With a special focus on water supply, drainage, and storm water lines for areas like Sanand, Manipur, Godhavi, Sanathal, Mehmedabad, Aslali, Jetalpur, Telav and Bareja areas. It also placed before the state government a plan to complete piped water supply to 45 villages on the outskirts of the city. In all, the plan is worth Rs 1,580 crore.
Under this mission, Auda has covered 45 villages of Ahmedabad and Gandhinagar districts for the supply of potable water.
But, one of the biggest concerns for Auda has been the access to potable water. In an interaction with Bopal and Ghuma residents five years ago, Auda officials claimed that the residents were using water with exceptionally high TDS (Total Dissolved Solids) as high as 1600 to 2200ppm (parts per million) against the acceptable limit of 400-500ppm.
"Residents, especially in villages nearby who couldn't afford RO systems, sometimes even used high TDS water causing serious health problems," claimed a senior Auda official handling water supply. He added that water supplied by AMC in these areas was time bound due to which residents were forced to store water for a long term.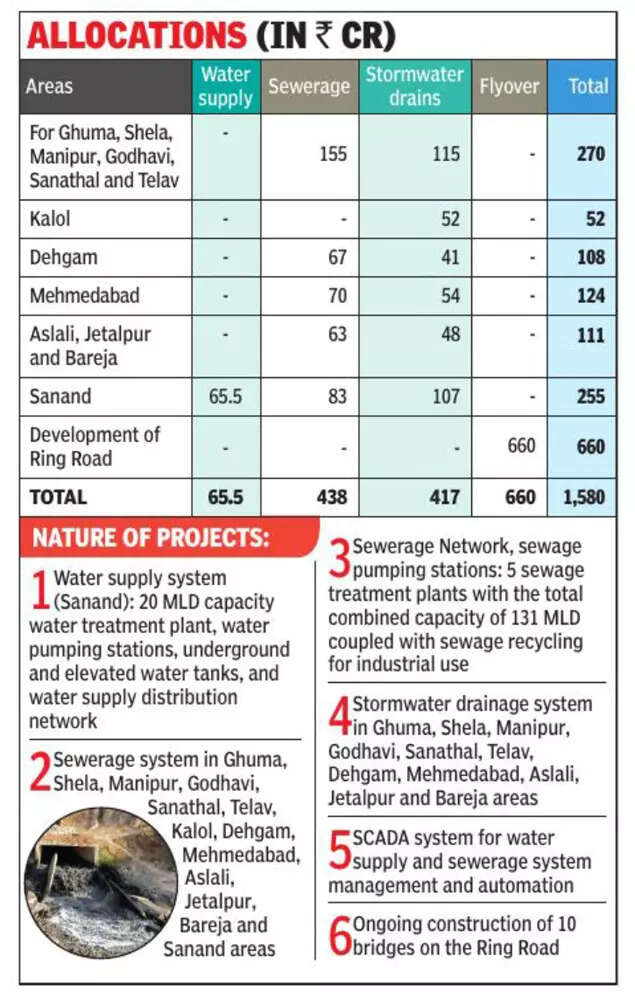 With unavailability of Narmada drinking water, groundwater levels had plummeted to anywhere between 500-700 feet in these areas. "Over the last three years, several of these difficulties have been overcome. In Sanand, a 20 million litres per day (MLD) capacity water treatment plant, water pumping stations, underground and elevated water tanks, water supply distribution network is being set up. Bopal and Ghuma areas too are getting their own robust water supply systems," adds the Auda official.
"We are currently laying an advanced storm water drainage network with rejuvenation of lake and recharge of ground water," adds the Auda official.
Auda sources claim that the state government has agreed to provide a seed fund of Rs 285 crore. To accomplish these projects Rs 126 crore will be required for project consultancy and Rs 158 crore for any escalation in price during the implementation of the project. In all, most of these projects will cost Auda Rs 1,900 crore approximately.